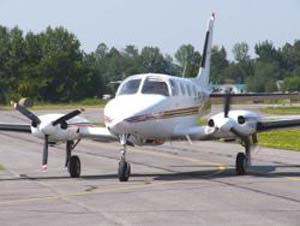 A plane similar to this one made an emergency landing today near Gypsum, about 30 minutes west of Vail.
Blog Tools
Comments
PermaLink
Plane makes emergency landing in Eagle
By Tom Boyd
October 10, 2007 — Under the category of, "You don't see this every day," comes a story of a small commuter plane making an emergency landing on I-70 between Eagle and Gypsum today.

The plane was a Cessna 340 piloted by David Kunkel, according to an article posted on the Denver Post website, which also reported that the plane landed safely in the westbound lane and pulled to a stop on the shoulder of the highway.

It seems no one was injured during the incident, which occurred while Kunkel was en route from Denver to Meeker, the Post reported. No word yet as to why the pilot didnít land at the Eagle County Airport, which is located within a few miles of where the plane made its emergency landing. The nearby Eagle County Airport has become the second-busiest airport in the state during ski season, although this time of year it seems conceivable that the runway could be cleared for an emergency landing.


Comment on "Plane makes emergency landing in Eagle" using the form below