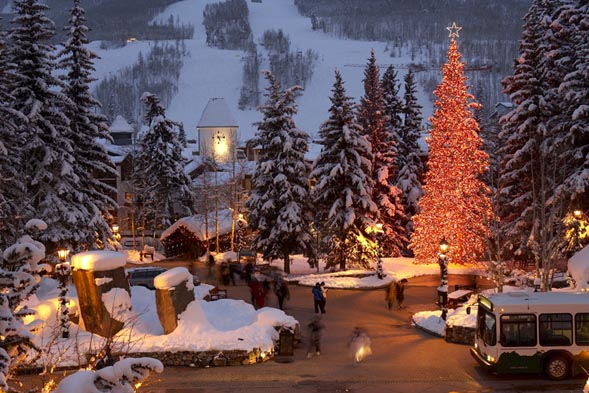 The Christmas Tree lightings in Vail and Lionshead are a symbolic beginning to Vail's peak season.
Jack Affleck/Vail Resorts
Blog Tools
Comments
PermaLink
Things to do in Vail and Beaver Creek (Dec. 19-22)
By Tom Boyd
December 19, 2008 — I can't help but feel a spark of jealousy when I check out the upcoming event schedule in Vail. Over the years the list of events and activities just keeps growing and growing.

It certainly wasn't this way when I was a kid (poor me!), but in 2008 family-friendly activities and apres options in Vail and Beaver Creek pile up like powder in a snowbank, leaving parents, teenagers, and adults wondering which way to go and what thing to do. It's more evidence, I suppose, for the theory that each generation is an improvement upon the last.

The holiday tree-lighting is a symbolic opening, in my mind, to the apogee of Vail's winter: The Holidays. The start time for the Lionshead tree lighting is 5:30 p.m. in the Lionshead Mall area, near Billy's Island Grill restaurant. Children of all ages are invited to participate in the Lionshead tree lighting and then in a Children's Parade from Lionshead to Vail Village to light the tree in Slifer Plaza. The Vail Village tree lighting, near the Covered Bridge, is expected to take place between 6:15 and 6:30 p.m., depending on the length of the parade.

In addition to the planned tree lightings, carolers will perform throughout Lionshead and Vail Village nightly from 7 to 10 p.m. Dec. 18–23. The Dickens Carolers, a local group of performers, will host a special free Holiday Concert at the Vail Interfaith Chapel on Saturday, Dec. 20 at 7:30 p.m.
Nature at Night, hosted by the Gore Range Gore Range Natural Science School, is fascinating chance to get out under Vail's unrivaled night sky and learn more about astronomy, nocturnal animals, and the natural world around us. The event is FREE and takes place Thursdays and Saturdays throughout the winter season at 6 p.m. at Eagle's Nest (atop the Lionshead Gondola).
Apres options abound at both Vail and Beaver Creek. Shannon Tanner and Friends  play McCoy's at Beaver Creek at 3 p.m. regularly, Kevin Danzig plays at Arrabelle at 3:30 p.m. regularly, and Roy Bloomfield plays the Marriot in Lionshead at 4 p.m. Dec. 21.
The Club in Vail is long been my personal favorite Apres hangout … Steve Meyer, the Good Times Man returns to the Club after Christmas and will be doing his thing there all winter (girls, be sure to bring extra bras.) In the meantime Shawn Allen will keep the night scene rockin' and on Dec. 23-25 the WMDs of New York City will be playing. The Club  is also hosting their Christmas party (free keg) Sunday Dec. 21.
Local jazz masters Allan Finney and Tony Gulizia tinkle the ivories and fill the Vail Cascade resort with their award-winning tunes Dec. 19 at 3:30 p.m., and Gulizia, as always, elevates the mood at The Grouse Mountain Grill at the Pines Lodge in Beaver Creek nightly at 6 p.m. It's hard for me to be objective about Finney and Gulizia, who have both taught and shown me a lot about music from a young age, but I personally believe they are the top talents in the Rocky Mountain region, if not beyond, and I highly, highly recommend finding a seat near the piano, ordering up your favorite beverage, and watching the magic.
The Irish Tenors will perform at the Vilar Performing Arts Center in Beaver Creek Dec. 21. This world-renown trio has produced seven best-selling albums and earned an international fan base with their

soaring renditions of traditional Irish folk songs. They bring their special Christmas show to Beaver Creek for their Vilar Center debut. Tickets are available online or by calling the Vilar Center box office at 888.920.ARTS(2787).
So there's a sampling of what's happening in Vail and Beaver Creek this weekend and into next week. See you out there and enjoy.

Comment on "Things to do in Vail and Beaver Creek (Dec. 19-22)" using the form below