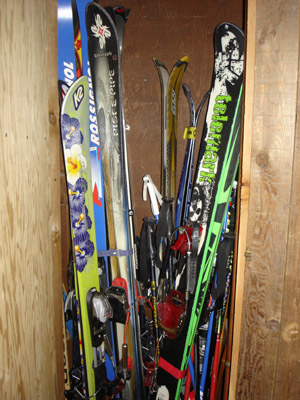 What new goodies will be added to the ski closet this year? And which old relics can I sell at the Swap? Only time will tell, as the annual ski swap approaches at Dobson Ice Arena Oct. 26-27.
Blog Tools
Comments
PermaLink
Why this is my favorite time of the year, Part II: The ski swap
By Tom Boyd
October 12, 2007 — I have a no-brainer reason why I love October for this segment of "why this is my favorite time of year." No, it's not just because my birthday is coming up (ahem ... didya catch that one, everybody?) - it's because of the ski swap, when Dobson Ice Arena in Vail becomes a massive ski/snowboard shop full of new gear, old gear, and great deals.

So, without much ado, here's the skinny on the swap:

INFO: The swap begins with "Early Bird" shopping from 5-7 p.m. Oct. 26 (but you've got to pay $15 to be a part of the Early Bird special). General Admission is on that same day from 7-11 p.m. with a $5 entry fee. Saturday is also $5 and the swap is open from 10 a.m. – 3 p.m. with a $5 entry fee. Scour for bargains for free after three, from 3 – 6 p.m. Saturday.
For more information on the ski swap click CLICK HERE.


Comment on "Why this is my favorite time of the year, Part II: The ski swap" using the form below