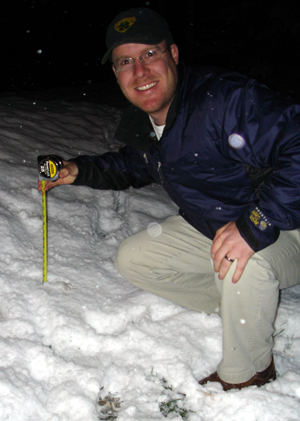 As of 9 p.m., Oct. 17, four inches had fallen in West Vail, which probably means about eight inches have fallen atop Vail Mountain. With another storm on the way, this can be seen as a good sign that a decent base will be ready for us on opening day less than a month from now (Nov. 16).
Tom Boyd
Blog Tools
Comments
PermaLink
Snow update
By Tom Boyd
October 17, 2007 — Two snowstorms are making their way through the valley at the end of this week, and having just traveled from Denver to Vail, I can attest that Vail is getting more out of this first storm than any other I-70 corridor resort.

The snow started colliding with my windshield around Copper Mountain, and by the time I reached the top of Vail Pass it was absolutely pounding.
It gets a little wetter below 10,000, but there's still enough to put four inches – according to the official RealVail tape measure – in my front yard as of 9 p.m. I'd guess there's double that at PHQ atop the mountain.

Comment on "Snow update" using the form below