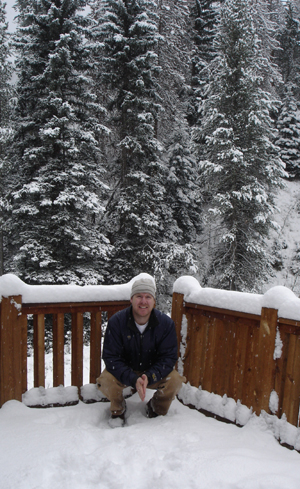 Vail took the brunt of the most recent storm which plowed through Colorado. Another, larger, storm is on its way this weekend.
By Tom Boyd
Blog Tools
Comments
PermaLink
Snow update
By Tom Boyd
October 18, 2007 — It's beginning to look a lot like Christmas – yet it's only October here in Vail.

Overnight snow left us with the first real blanket of the white stuff this season, and more is on the way. WeatherReports.com is predicting more snow through today (Thursday), and a second, larger storm to leave snow Saturday night and Sunday. For a look at the 5-day forecast, click on the icon underneath the snow report on the left of this page.

The realvail snow report won't deliver snow information for the respective ski resorts until after each resort has opened, but I can report that Vail got the best of the storm which, as I write, is still making its way through the Valley. Summit county was relatively clear Wednesday evening, Copper Mountain was getting the edge of the storm, and Vail was (and is) getting a full delivery of big fluffy flakes – not the wet, cakey stuff we've seen previously this season.

The higher elevations are getting even more snow, as heavy, consistent snow has been falling there since yesterday afternoon. We haven't seen the peaks for quite a while now, but when we do they will come away frosty white.

The WeatherReports.com forecast calls for partly cloudy weather to prevail Friday, but the weekend ought to bring more precipitation in all its many forms. All this spells good news for Vail and Beaver Creek's snowmaking crews, who can use low temperatures and a little help from Mother Nature to create a great base for opening day.

Comment on "Snow update" using the form below