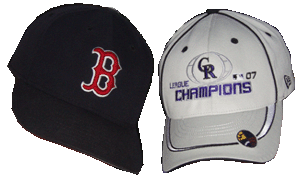 The Sox are on their way to meeting the Rockies in the World Series this year ... at least that's my opinion, and the opinion of at least 100 bars full of delerious Sox fans.
By Tom Boyd
Blog Tools
Comments
PermaLink
Representing the Rockies
By Tom Boyd
October 20, 2007 — Live from Boston, Iím here tonight near Fenway (not IN Fenway, unfortunately), making sure Bean Towners know that not only are the Rockies for real, but so are their fans.

Iíve already talked to many people who have been to Vail and are, we hope, planning to visit us again this winter.

I have to say that, having been here a few times this year, and having talked it up with all kinds of different fans here, that the Boston crowd is very cool about the Rockies, very supportive, not dismissive at all about our novel nature, and most are fired up about baseball finding a new, loyal home in the mountains.

I'm pulling for a Sox win in Game 7 because I've met good people here, and because I think a Rockies v Sox series is far more intriguing than a Rockies v Inidans series.


Comment on "Representing the Rockies" using the form below