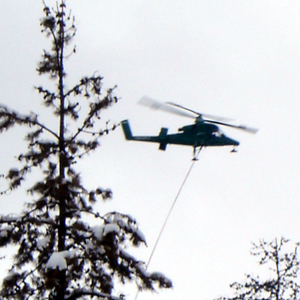 Helicopters, I've discovered recently, are very, very cool - but unfortunately they can't solve all our problems.
By Tom Boyd
Blog Tools
Comments
PermaLink
Fire mitigation and better skiing - a match lit in heaven
By Tom Boyd
October 23, 2007 — It occurs to me, as I look out my window to see a cool-looking helicopter flying back and forth over my house, that I have a long-standing childhood desire to fly a helicopter.
Hmmmm, perhaps if I were given control of one of those babies I could solve Vail's beetle-kill issue in one fell swoop!

(See related news and sports stories by clicking either of the following links: "Could California-style wildfires happen here?" or "More glade skiing on Vail Mountain?" .

Here's the plan: give me a couple dual-rotor helicopters, a huge crew of loggers on the ground, and a multi-billion dollar budget and I'd take care of all those trees in a jiffy. If I were king of the world (which, in my own mind, I already am), I'd cut 'em down, create more glade skiing, fly the wood to the lumbermill, and reduce fire danger all in a few year's time.

Seriously, though, isn't that an option to be considered? The lumber sales would offset the costs of undertaking the project, Vail Resorts could chip in a hefty amount (since they would be upping their skiing acreage), the town would feel safe, and our surrounding environment would be back on track, right?

As always, it's not that simple. The Forest Service rangers are taking a close look at the terrain on Vail Mountain to determine just what's right for the health of the forests in that area, and since ski runs already exist, it seems more trees – not fewer – are what's needed on Vail's Front Side. Since skiers and snowboarders often kill (or maim) little saplings as they ski over the top of them, especially early and late in the season, the Forest Service seems hesitant to prescribe the kind of cutting and hauling which is currently ongoing in West Vail.

Ah well, that's the way it goes. But perhaps, at least, I could get a ride-a-long in one of those helicopters?


Comment on "Fire mitigation and better skiing - a match lit in heaven" using the form below