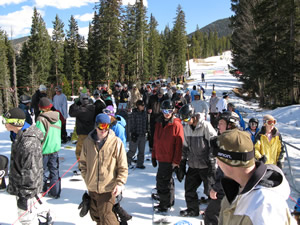 Snowboarders made up the majority of the crowd at Keystone on opening day, Nov. 2. The A-51 terrain park boasted about 20 features - quite a feat for this early in the season.
Photo by David O. Williams
Blog Tools
Comments
PermaLink
Keystone's opening day report card: A-51
By Tom Boyd
November 3, 2007 — Today was no powder day, yet merely the fact that I can report, at long last, that I've marked my first day of the season is reason enough to make this a good day. Boots, skis, poles, hat, gloves … next thing I know I'm carving down the face of Keystone mountain. Not bad.


I was in the minority equipment-wise, insofar as I had two planks and two poles while most others did not. Keystone seems wise to the idea that ski runs will be a bit boiler-plate this early in the season, whereas terrain parks, which are man-made regardless of time-of-year, can be pretty good almost immediately. Therefore snowboarders (and a few twin-tippers) swarmed around the A-51 terrain park's 20-or-so features atop the mountain, priming themselves on the smaller features while awaiting the bigger, badder features of mid-winter to come into being.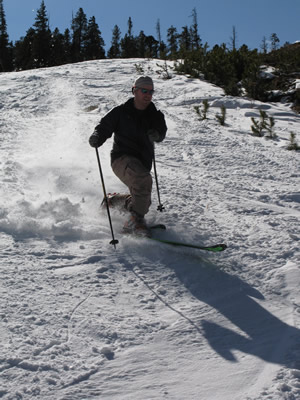 I found a few patches of fairly good snow at Keystone, but largely the day was about just being there.

They seemed quite happy with the park while the rest of us made the most of Keystone's single run. This gave my legs the opportunity to reiterate their long-standing dislike of opening day's muscle shock. Awoken to the idea that they will have to upgrade their status from "couch-ready" to "slopes-ready," both my left and right legs agreed that I should take a "ramp-up" approach to telemarking this year, taking it a few runs at a time until ready for a full day of skiing sometime in December.


After a few runs I agreed, and we downloaded via the gondola to the base of the mountain, where grass, once again, replaced snow as the primary thing making contact with the bottom of my boots. Powder days, I was reminded, are still far off – but just to know that a ski day is now there for the taking gave me a certain sense of levity.


Comment on "Keystone's opening day report card: A-51" using the form below