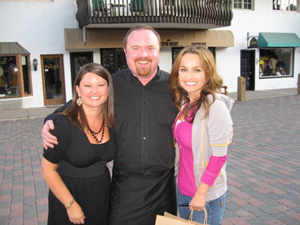 Food Network star Giada De Laurentiis visited Sweet Basil as part of a Rocky Mountain segment expected to air tonight at 8:30 p.m. on the Food Network. The star is pictured here at Sweet Basil, with Sweet Basil's Alisha Quinn (hostess) and Matt Morgan (managing partner).
Courtesy Sweet Basil
Blog Tools
Comments
PermaLink
Vail to get air time on Food Network tonight
By Tom Boyd
November 9, 2007 — Vail will get national exposure on television tonight at 8:30 p.m. (MST) as part of a show on the Food Network hosted by the lovely Giada De Laurentiis.


De Laurentiis came to town Tuesday, Sept. 11, and visited Vail's famed Sweet Basil restaurant to film tonights episode of the popular "Giada's Weekend Getaways." De Laurentiis also visited Beano's Cabin in Beaver Creek during her filming stint, all as part of a broader episode to be entitled "Vail/Beaver Creek" or "The Rocky Mountains."


We'll find out tonight which name the episode will have, and we'll get to find out what De Laurentiis thought of our home turf.


Sweet Basil marketing director Jana Morgan received a call in August from one of the producers of the show stating Basil was "in the running" to be in Giada's Weekend Getaway Rocky Mountain edition. The producers began with a list of 20 Colorado restaurants that had great reputations, interesting food and name recognition. After numerous meetings, they narrowed the field down to just a few.


The fact that two of the chosen locations were in our valley comes as no surprise to me since, in my opinion, we have the best food in Colorado, no question.

Comment on "Vail to get air time on Food Network tonight" using the form below