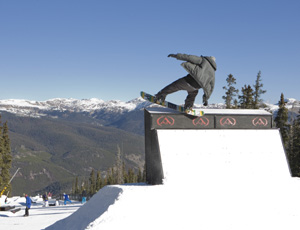 A snowboarder kicks off the top of a quarter-pipe, one of more than 20 features at Keystone's A-51 early season railyard, open every day to a forward-looking public.
Courtesy Keystone Resort
Blog Tools
Comments
PermaLink
The November motto: "Always forward, never back"
By Tom Boyd
November 10, 2007 — People like to look to the future. To slide is to slide and to ride is to ride, and the early season hunger to get out and start skiing/snowboarding seems to be alive and well here in the Rockies.


Rumor has it that more than 1,000 people a day have been riding Keystone this week, and based on what I saw there last Thursday, those numbers seem about right. I have a few friends skiing A-Basin right now, as I type, and I'll get a report from them and post it as soon as they're back.


This past Thursday – yet another bluebird day - I expected to see a few die hard locals out on Keystone's single slope, but even on a weekday I witnessed a relatively large crowd shuffling onto the gondola in the a.m. Most of them were snowboarders on their way to the A-51 railyard (an early season version of the A-51 terrain park), which boasts an impressive 20+ features, even in this dry, early season.


Copper has some terrain park action happening right now, too, but mainly we're looking at single runs at a handful of resorts.


And yet, the hiking is fantastic right now. Only moments ago my nostrils were filled with the sweet, dry smells of crunching leaves and dry grass, delivered to me during a jaunt along the North Trail, here in West Vail. It's a time of year when the mountain bike and the skis can receive equal billing – the hiking boots are as important as hat and goggles.


Still, I carry a kind of guilt with me for choosing to hike this morning, rather than ski. I'm like some lost soul who, obsessed with wringing the most from the summer season, cannot part with it, cannot part with memories of summer walks, green trees, and dry ground. Shouldn't I let go of warm weather and embrace the winter, whose white fingers are already spreading downward from the mountain peaks? Shouldn't I choose to ride down rather than walk up? Isn't it an intrinsically more optimistic viewpoint to look forward, rather than back?


The truth is I can't decide. Based on what I saw at Keystone, most people want to look forward, never back. It's November 10, and that means ski + snowboard season is here, no matter what. To take a trip down that one, white slope is not just to ride again, but it is also to have a small taste of what's to come. Forget memories of summer, they say, there's simply too much to look forward to. Save thoughts of summer, they seem to say, for the spring. Right now, it's time to ride.


Comment on "The November motto: "Always forward, never back"" using the form below