Center of the Universe
A RealVail local for all of eternity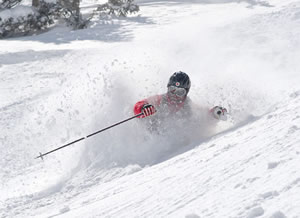 The blogger shreds a perfect turn on a perfect ski day
Photo by Dan Davis -
trekkerphoto.com
Blog Tools
Comments
Permalink
By VailSnob
March 8, 2008 — Ahhhhh, fresh snow. It makes a man do crazy things: ditch friends, leave his wife and kids at home, sit down at a computer and begin typing.
With many apologies to the real writers here at RealVail, this is seriously the first time I have sat down and typed anything substantial since I graduated college (CU, 1993 – go Buffs!). But with my buddy Dave O sidelined for the year, I felt that Tom needed a little help picking up the slack.
So I finally decided to make good on my threat to post something on the World Wide Web. So please bear with me while I hunt and peck my way through a Vail local's ski day. Maybe it will give you some insight on how someone who lives here gets around when the snow is GREAT (sorry, Dave O).
One of the joys of living here, and working nights, is that after my daughter is dropped off at ski school around 9:30 a.m., I have all day to try to figure out what to do until she has to be picked up at 3 p.m.
Another nice aspect of skiing a lot is that there are usually plenty of people to ski with, even if your first lift ride is alone. While riding the Vista Bahn at 10 a.m., I've made contact with the first of many groups I would ski with today.
My buddy had been up since 8:45, and the word was: "Sick, deep, fast and fun. I needed to get to Blue Sky as fast as possible."
Let me take a moment to address Blue Sky. I will be posting occasionally - as conditions warrant - and anonymously, as VailSnob. Why? Well two reasons: 1. Today was day 42 for me. One at Copper early season and one at Aspen Highlands last weekend. Other than that all my days are at Vail. 2. For the most part, I believe that both Beaver Creek and Blue Sky Basin are great for other people, and me indirectly, because it gets people off the stuff I really like to ski. So, with some hesitation, I headed that way.
I began by jumping into my favorite line down Headwall, and it was indeed deep. And soft. And beautiful. I non-stopped it to Chair 17, and headed up. On the lift I called to check to status of my meeting.
A lost ski on Rasputin's. Still looking. No Blue Sky (hurray!). Instead, I was to head to Chair 21. So I blasted down Genghis Kahn (pound for pound the best run on Vail Mountain IMOP) and met up with my friends.
The poor guy with the lost ski (he never did find it) headed down; we hit Red Square; then a secret tree stash. It was 11:45 and my buddy had to head down. Fortunately, my phone rang, and it was a work friend headed down to Chair 11. I high-tailed it down Whiskey Jack, then Northwoods, and rode up with him. Next it was on to Riva Glade, up Chair 2, then Look Ma from the top (far skier's left).
My work buddy was really enjoying the Front Side, but I was itching to head back to the back. Just then my phone rang again, and it was a writer friend of mine, just heading up Chair 10. So up Chair 4, down Upper Snag Park (short but steep and seriously deep), and down to Chair 14. From there we hiked across the ridge, and hit Genghis. It was sooooo good that we made a mutual decision to do it again. Then up 21, where we ran into some more friends, and across to Rasputin's.

Then back to Genghis (I said I love it), and back to Raspy's one more time. Then it was 2:45 p.m. and time for me to head to Golden Peak to pick up my daughter. For good measure I hit Log Chute (skier's left) for some soft powder bumps on my way down.
And tthere you have it. Four hours and 45 minutes of skiing: 14 runs, a whole bunch of different people, and a great day. There have been some deeper days. There have been days where I covered more terrain (Sun Up and Sun Down bowls will have to wait for another day). But there was something magical about today. A perfect confluence of conditions, people, and timing.
Heck, it's almost midnight, I just got home from work, and I still felt compelled to sit down and write about it. Oh, and did I mention that today was telly Friday? (More about my gear fetish and my bi-skieraulity, i.e. both telemark and alpine skiing, in a later blog).
If you're headed out here, you are psyched. The skiing is great. And if you have read this, or any of the real, quality stuff on this website, please make sure to have a moment of silence on your first lift ride for our sidelined friend David O. Williams. Because while we are out enjoying the goods of the Epic Winter of 2007-08, Dave O. is stuck at home … working. Ouch

2 Comments on "The anatomy of the perfect Vail ski day"

Submit and read more comments on "The anatomy of the perfect Vail ski day" now!
---
Read More Blog Entries

Blog entry 1 through 1 of 1 total entries
Bloggers Profile and Information