About realvail Writers
Real locals, real writers, realvail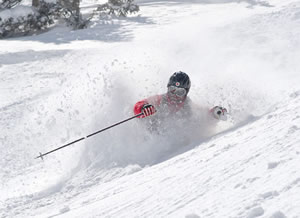 Real Blogs
More real Writers
VailSnob
Center of the Universe
realvail local since: January 1, 1992
VailSnob is an anonymous Vail resident and businessman who is unabashedly dedicated to all things Vail, to the extent he only grudgingly skis other resorts (a free lift pass, ski demo day, relatives or really good friends insist – and even then it's a stretch).

VailSnob, even though he once worked there for a brief but largely unfulfilled moment in time, wouldn't be caught dead skiing Beaver Creek, even on the rare occasion the Beav' outstrips Vail in the daily snow report.

Beaver Creek is triple-A ball; Vail is the American League – or so says VailSnob (his is not necessarily the opinion of realvail.com). In fact, it decidedly is not, but we tolerate his Vail-centric eccentricity because he occasionally buys us beer at our favorite Vail bars.

VailSnob owns a home in Vail, is raising his family in Vail, and essentially argues that Vail is the absolute epicenter of the skiing (if not overall) universe. He believes in the holy trinity (Vail's Front Side, Back Bowls and, to a lesser degree, Blue Sky Basin) and finds little salvation in any other ski cathedral.

When he dies, which won't be for many years given the life-prolonging bliss that living in Vail engenders, VailSnob's ashes will be scattered on Genghis Khan (or Born Free if we get hold of them) and his headstone will read: "Vail only – everything else isn't really skiing."

Please take his opinions with a grain of powder, and let him have it in his comments section with both barrels if you disagree.


VailSnob 's Blog: Center of the Universe...