About realvail Writers
Real locals, real writers, realvail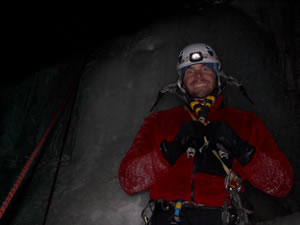 Real Blogs
More real Writers
Jens Werner
Vail On Ice
realvail local since: January 1, 2003
Jens Werner hails from the small river town of Pekin, IL, where he lived, with the exception of his college years at Illinois State, until summer of 2001. Then, like so many others, moving to Vail for 8 months turned into 6 years and counting.

Jens was drawn to Vail after vacationing here as a child. Upon moving to "The Valley" he spent a year skiing but was haunted by the desire to climb ice. Vacationing in Vail as a kid he idolized the burly climbers working at Gore Range Mountaineering, currently Axel's in Vail Village. His fascination for the climbing hardware at the store added to the desire to climb. He was, and still is, a hopeless gear junkie.

Meeting a few ice climbers that first winter, Jens absorbed all the information that he would need to become a safe and successful member of Vail's tightly-knit ice climbing community. The rest is history.

Jens has led all of the classic water ice routes in the Vail Valley and many of the mixed routes in addition to climbing in Rocky Mountain National Park, Ouray, Glenwood Canyon, Clear Creek Canyon, Officers Gulch, Summit County,
Redstone, Cody, Wyoming and the Tetons.

Werner works for Peeples Ink PR, Ltd in Vail and lives in Avon with his wife and daughter. Other real Vail addictions include; trail running, fly fishing and tying, rock climbing and living the good life.


Jens Werner's Blog: Vail On Ice...