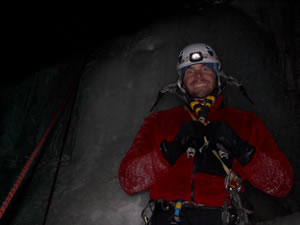 Jens Werner night climbing in the East Vail causes the unique glowing ice phenomenon on Tuesday nights this winter
Photo by Jens Werner
Blog Tools
Comments
PermaLink
East Vail Ice Climbing Off The Hook!
The Fang, Designator, Spiral Staircase, Pump House are all thick and fat as ever
By Jens Werner
January 24, 2008 — Although it may seem that there is a unique glowing ice phenomenon in East Vail on Tuesday nights this winter, rest assured that is not the case. The cause of the strange iridescent ice-falls is American Idol. You see American Idol is on Tuesday nights and my wife is a huge fan. I, on the other hand, canít stand the thought of another winter watching people do bad covers of bad songs only to be ridiculed by Idolís only redeeming quality, Simon Cowell.


So that said, Tuesday night has become my ice climbing night and to climb at night requires the headlamps that cause the glowing ice phenomenon. Over the past few years my professional career has dwindled the number of days that I get to climb between late October and early April. The night climbing that used to just be for fun has become necessity to climb enough to make me happy. Simon and his ďIdolsĒ are merely catalysts that designate Tuesday nights as climbing night and help make it easy for my wife to say, YesÖgo!Ē.


Climbing ice at night elicits a strange response from most people I know but really is not much more difficult than climbing during the day. All that really matters-the five feet above you and the five feet below you- is illuminated by your headlamp. Another redeeming quality is the complete lack of other people. While skiers hardly see the number of climbers in East Vail on a Sunday as ample compared to a Sunday lift line, the truth is that every year there are more people for the limited number of climbs within the realm of possibility for we mortals. Iíve always had my pick of climbs at night. In fact, Iíve never even run into another party, although I know from the glow that others do it from time to time.
Itís become a Tuesday night ritual that I crave. The solitude of me and a great climbing partner, the mesmerizing lights looking down on East Vail, even the hum of I-70 is more bearable at night. I also enjoy the taste of a beer well earned when Iím through.


Climbing at night in the winter is a ton of fun for those hearty enough to do it. I highly recommend it. All I can hope is that you like American Idol as much as my wife and wonít choose Tuesday to go.


Day or night the ice in East Vail is in great shape right now and extremely fat in most places. The snow that is seemingly the only topic of conversation among skiers and snowboarders is also providing a host of new climbs and variations of classic climbs. In short, East Vail is off the hook! The Fang is touching down, the Designator looks great, there is an unbelievably beautiful vertical section of ice to the right of Spiral Staircase and Pump House is fat as ever. No one has packed the trail out to Secret Sickle yet so its status might remain a secret until later in the season. Red Sandstone Ice looked good a few weeks ago when I hiked up for a gander, although I donít think anyone had climbed it yet. Itís almost hard to believe that we are only in mid January.


Get the tools sharpened up and get out there, and remember the glow on Tuesday nights is not a UFO landing in East Vail. Itís just me avoiding the beat-box version of Come on Eileen on American Idol.

4 Comments on "East Vail Ice Climbing Off The Hook!"