About realvail Writers
Real locals, real writers, realvail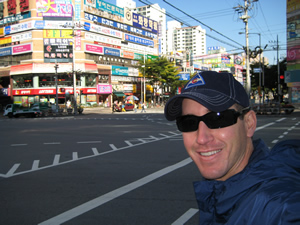 Real Blogs
More real Writers
John Buckley
Mental Malaria
realvail local since: November 1, 2007
Buckley, a lifelong Vail native, can trace his Colorado roots back to the early mining days when his family operated The Buckley Bros. store in nearby Silverplume (the store can still be seen off of I-70 on the way up to Vail from Denver). After graduating from college in 1998, he returned to Vail to work for Peeples Ink Public Relations, where his job focused on promoting Vailís summer season.

In 2003, Buckley caught the travel bug and moved to Queenstown, New Zealand to experience a Southern Hemisphere ski season. Before returning to his life and job in Vail, he travelled his way home via Australia and South America. Though he re-established himself as a Vail local, he continued to fuel his passion for travel with annual international trips over the subsequent two years. Dating back to his initial trip in 2003, Buckley has travelled through Tahiti, the Cook Islands, Fiji, New Zealand, Australia, Argentina, Chile, Uruguay, Paraguay, Brazil, Panama, Malaysian Borneo, Thailand and Myanmar.

Though reluctant to leave his hometown once again, the allure to see other parts of the world proved too strong and Buckley moved to Daegu, South Korea in October of 2007 to spend a year teaching English. His regrets that he will miss another epic Vail ski season, though intends to log several days on the hill in Korea and nearby Japan. He has plans to travel his way home to Vail again in 2008.


John Buckley's Blog: Mental Malaria...
Blog Entries by John Buckley
Headline
Post Date
Losing the madness over the mountains: Trekking the Annapurna Circuit in Nepal
Dec 11, 2008
Trekking the Annapurna Circuit in Nepal
Dec 3, 2008
Hong Kong, short and sweet
Oct 27, 2008
The Buckley train is setting off once again
Oct 24, 2008
Beer and brawls before Beijing - a Vailite's Olympic stories from China's underground
Aug 25, 2008
Vail travel: being a wayguk (foreigner) is way fun
Jul 21, 2008
I do love skiing, even in Korea
Jan 15, 2008
When You Smell Burnt Hair, Don't Go Looking for Snacks
Dec 10, 2007
This Bud's for you, Mr. English teaching guy
Nov 20, 2007
Annyong Haseyo (hello!):
Nov 4, 2007