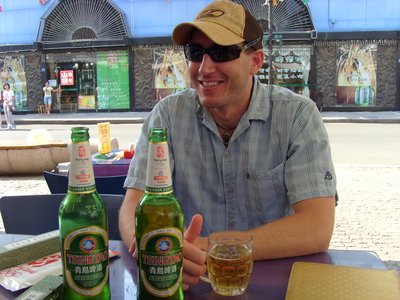 Blog Tools
Comments
PermaLink
The Buckley train is setting off once again
A brief summary of what I have up my sleeve on my way home from Korea
By John Buckley
October 24, 2008 — Typically, in my little writing space that I've dubbed "Mental Malaria", I do my best to at least make an attempt at being entertaining. But today, as I find myself on day 10 of surfing my friend's couch, I'm realizing that quite frankly, it's taken a toll on my brain power. So consider this just an update for those of you who I do not keep in frequent contact with; just a "Mental Head Cold" if you will.

It's hard to believe, but I have just finished up one year away from home and my year of teaching in South Korea. It has been one hell of a ride. So what now? Well, anybody who knows me, knows that if I've got a pocket full of cash and an abundance of free-time, well I'm a go'in traveling. . .

So on Friday morning at 3 a.m. I board a bus out of Daegu and head up to Seoul. I then fly from Incheon (Seoul) to Hong Kong. I'm going to stay in Hong Kong for about a week, but I might shave that down to 3 nights because Hong Kong is pretty expensive and I'll be heading to Bangkok which is quite cheap. I have absolutely nothing planned for Hong Kong, have done zilch reading on what to see and do, but I'm usually at my best when left to just wander.

From Hong Kong, as aforementioned, I head to Bangkok for a short stay. I don't really have a plan for Bangkok either, but my guess is that it will involve eating a lot of Thai food and drinking a lot of Chang Beer. I have a friend who runs a used bookstore there, so I plan to meet up with him and chat about Myanmar as I intend to go back there at the end of my trip. He has been there many times and knows more about the country than anybody I know.

After Bangkok, I head to Nepal. Well, more accurately, I head to Calcutta India, where I'll get to enjoy 15 hours of hanging out in the airport. That should be fun. I wonder if the airport curry will be good? If it is, I think that justifies checking India off on my Facebook list of "places I've been".

But I digress. So yeah, off to Nepal which should really be the highlight of this little jaunt. I'm going to be there for six weeks and will spend three of those weeks trekking the Annapurna Circuit (which should be interesting considering I haven't exactly devoted myself to fitness in my year here in Korea). The AP Circuit doesn't take you up to Everest Base Camp or anything like that, but you trek from village to village surrounded by the Himalayas staying in little tea houses. It should be epic. Also on my list of things to do in Nepal is to visit the Royal Chitwan National Park where you get to ride around on the back of an elephant and view wildlife like rhinos and tigers. That should be pretty cool, though it may result in a bit of sore ass. I'm also considering a multi-day raft trip and may also take a "mountain viewing flight" to check out Everest from eye-level.

After Nepal, I'll return to Bangkok for a brief stay before heading back to Myanmar for about 10 days. I was there a little over a year ago, and though it is perhaps one of the most backwards places you can visit, it makes it all the more interesting. The Myanmar people are just amazing, made even more amazing by their resilience in the face of living in a country governed by a bunch of spineless thugs. If my time is running too short and the logistics of getting into Myanmar prove too tough, my backup plan is to head to Laos instead.

Assuming all goes well, I'll be on a long-haul slog back to the States on Christmas Eve. My current plan is to surprise my parents by telling them that I won't be back until January, but I'm a terrible liar and it's getting kind of tough to keep it up. After being home for about a month and a half, it looks like I'll end up back in Korea by February. It's kind of strange to think about coming back for another year, but life is good over here and I'm able to save a ton of money, something that I don't think is so easy back home with the current state of things.

So that's the plan. My life doesn't suck.


Comment on "The Buckley train is setting off once again" using the form below