About realvail Writers
Real locals, real writers, realvail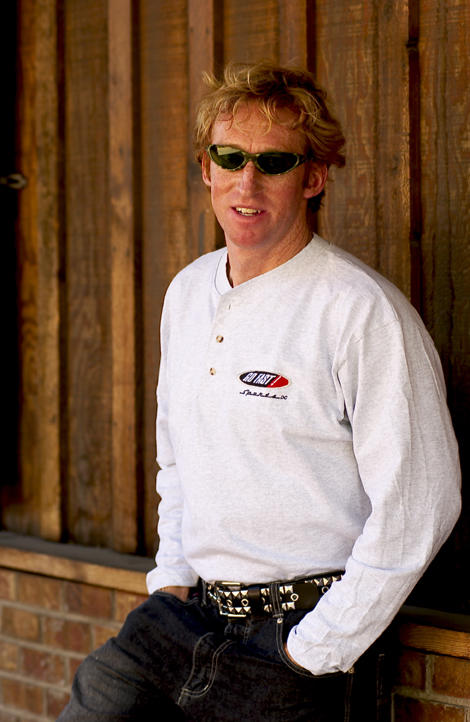 Real Blogs
More real Writers
Chris Anthony
Chris Anthony's Corner
realvail local since: September 19, 1983
Former Alaskan Extreme Skiing Champion, veteran of 9
World Extreme Skiing Championships and 19 Warren Miller Films

Chris Anthony is a Colorado native and long-time Vail resident. When not busy traveling the globe with the Warren Miller film crew, Chris heads up specialized camps through "Chris Anthony Adventures" in Cordova Alaska, Italy, Beaver Creek and Vail and serves as co-host at the "Ski with the Superstars" in Portillo, Chile.
For the last 19 years Anthony has traveled as a member of the Warren Miller Film Team, freelanced for several publications, Co-Authored a guide book, been commissioned to write a screenplay, hosted and produced television programming, started a consulting business and given substantial time to a variety charities. In 1991 Chris was honored by being named Ambassador for the State of Colorado, a title he carried with him during a goodwill mission to the Prefecture of Yamagata in Japan. In recent years Chris has spent time filming with the US Marine Corps, and United States Navy. On the USS Nimitz being deployed to the Gulf Chris was brought aboard to speak to the young men and women aboard the aircraft carrier.
On snow since the age of one, Chris broke away from skiing long enough to reach international ranks in the cycling world, receive a Bachelor of Science degree from the University of Colorado, studied for a period at USC film school and wrote two screenplays. These accomplishments opened many exciting doors for Chris. In 1994 he found himself training with and serving as motivational guide to three-time Tour De France Champion Greg Lemond. He also had the opportunity to work with director, producer, actor Michael Douglas. Chris worked with Douglas and partner Steven Reuther as they laid the groundwork for Douglas / Reuther Productions, a major film production company at Paramount Studios.
In 1997 Chris was appointed to the Colorado Speakers Bureau. In October of 1998 Chris was hired to design, direct and select athletes for a nationally syndicated Skiercross race. The inaugural event took place successfully in Mammoth, California on January 9th 1999.
This season Chris has continued working with Warren Miller Entertainment, promoting and serving as emcee for the 58th addition of their annual film as well as appearing in the new television series, "Warren Miller's Global Adventure".
Chris also serves as spokesperson for the "5th Grade Passport Program", a product of Colorado Ski Country. His obligations include touring the Colorado school system and speaking to elementary school children about setting goals and achieving dreams.
Presently, Chris continues to conquer new terrain in the backcountry while becoming more familiar with the old. This is a lifestyle he shares with the world by passing on innovative ideas as a heli guide, journalist and motivational speaker. Chris also enjoys volunteering for a Variety of Charities.
(For more info
www.chrisanthony.com
)
Chris Anthony's Blog: Chris Anthony's Corner...
Blog Entries by Chris Anthony
Headline
Post Date
Back to school: Pur Power fitness class revisits the lost childhood art of weird balancing
Oct 16, 2008
Colorado Ski Country markets our slopes Down Under
May 28, 2008
Chris Anthony continues the Warren Miller tradition in Australia
May 20, 2008
Rich tradition of Vail riders in Race Across America continues
May 7, 2008
Cordova heli-camp: living large in Alaska's Chugach Mountains
Apr 7, 2008
Heli Camp Day 4: Chris Anthony's crevasse encounter
Mar 22, 2008
Day 2 in Alaska heli camp: settling into the routine
Mar 21, 2008
18 years of steep and deep, Alaska-style
Mar 14, 2008
Horseplay in the high country
Mar 4, 2008
China: the sleeping snow-sports giant
Feb 9, 2008
Sending out an SOS: Chinese ski resort a wild ride for beginners
Jan 30, 2008
Dispatches from China
Jan 23, 2008
Cortina Day 6: American women super in the super-G
Jan 21, 2008
Cortina Day 4: ultimate interconnect tour and an American win
Jan 19, 2008
Cortina: you are now entering the Twilight Zone of skiing
Jan 18, 2008
A "rediculous" week of skiing
Jan 12, 2008
Avalanche death a time for reflection, study
Jan 5, 2008
Programs, powder abound in hectic holiday season
Dec 25, 2007
Keep it steep, deep and safe over the Christmas break
Dec 18, 2007
Sex in the mountains (with a lot of snow)
Dec 14, 2007
A perfect storm of parties, deep snow and good times
Dec 10, 2007
Mother Nature always eventually brings the goods
Nov 30, 2007
Killin' it on the ski-promotion party scene
Oct 30, 2007
A few things to get you psyched for ski season
Oct 16, 2007
Taking home some NEPSA hardware at THE MEETING
Oct 14, 2007
Plethora of parties pump up ski season
Sep 21, 2007
Read More of Chris Anthony's Blog: Chris Anthony's Corner...