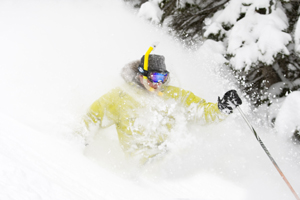 Blog Tools
Comments
PermaLink
A "rediculous" week of skiing
By Chris Anthony
January 12, 2008 — This past week has truly been, "ridiculous"


The snow just keeps coming. I really do not remember it being this good. Last night I was able to blow the snow off my car with a single breath as it sat so lightly upon my windows, and yesterday I skied a line in Beaver Creek I never thought could hold enough snow to ski.

It is just amazing. We are being blessed and I hope it does not stop.


The sad part of this is, these are my last two days here in the Vail before hitting the road. I leave for Italy where I will be skiing with supporters of the US SKI Team in Cortina Italy, site of a women's World Cup.


It is there I'm hoping to see Lindsey Kildow Vonn (formerly of Ski Club Vail) take another victory. After that I fly back to the Valley for a day or two before heading to China where the entire ski industry seems to have developed some interest. Both of these Blogs should be interesting.


Talk to you soon. Until then enjoy the snow.



1 Comment on "A "rediculous" week of skiing"