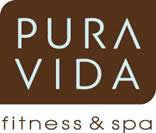 Blog Tools
Comments
Permalink
By Chris Anthony
October 16, 2008 — The seasons are changing and the snow is starting to bless us. The temperatures are falling and snowmaking is in full gear. A-Basin and Loveland have even put enough snow down to open.

I'm on the road now with this year's Warren Miller Film, "Children of Winter" (www.warrenmiller.com), and over the next two months I will open more than 60 premieres and speak at 15-plus schools, as well as host several fund-raising events and numerous other fun opportunities. I will keep you posted here on RealVail.com about some of the great opportunities and experiences along the way.

The most difficult part of being on the road is keeping fit. So this year I decided to team up with a very nice athletic club in Denver's Cherry Creek district called Pura Vida (www.puravidaclub.com) . I wanted to offer this as a way for people to get in shape for my camps I will be holding at the Park Hyatt in December: The Beaver Creek Park Hyatt & Spa Technique Weeks (www.chrisanthony.com).

It has been a long time since I have been part of an organized conditioning program, or for that matter had a coach pushing me. This was part of the reason I decided to be the catalyst of a ski-conditioning program called Pur Power at Pura Vida.

For the last several years I have been training on my own or with an occasional friend I can talk into tagging along for a bike ride or hike. This is good, but I have to admit it is a bit lazy because it's all on my terms. The only person pushing me or setting the schedule is me.

That works out great for one person. but by being the catalyst for this program at this very nice club I was now going to be obligated to attend as well as lead a couple of the classes down the road. I have to admit the idea of putting the concept out there was much easier than getting motivated to attend once the dates of the program started to close in.

Then just as the snow fell, day one of Pur Power took place under the leadership of master trainer Tim Harris. Our small but mixed group, a little nervous about what we were getting ourselves into, was enthusiastic, a bit quiet, but ready to jump in.

Tim pulled his game plan from his folder and class began. I loved it right from the start. I have just not had the leadership of a coach in so long it was nice to be the puppet and not the puppeteer for a change -- to concentrate on the exercise, doing it right, and to be corrected if doing it wrong. Even more invigorating was the energy Tim pumped us up with and feeding off the camaraderie of a group.

But more important than any of it, which Tim successfully reminded me of, is the lack of our ability as adults to move laterally. Once we stopped being kids, we stopped skipping, jumping and trying to balance in weird positions and basically embarrassing ourselves.

That's something that's hard to go out and do on your own without looking stupid, but it's just fine in a class full of peers with a common goal. So as day one started to near the end, my motivation for the class changed. I was wondering why I did not jump in on getting a group together with a master coach sooner. More importantly, where are my ski buddies and why are they not doing this with me?

The class is on its way, but feel free to join Pur Power anytime over the next six weeks and be able to take advantage of Tim's guidance, but also PURA VIDA itself. For more information, contact Heather at heatherb@puravidaclub.com.



Submit a comment on "Back to school: Pur Power fitness class revisits the lost childhood art of weird balancing "
---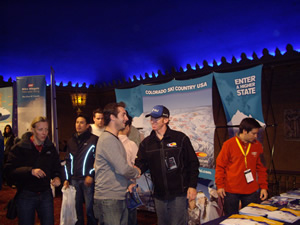 Vail's Chris Anthony mans the Colorado Ski Country USA booth at a screening of the new Warren Miller ski film in Australia recently.
Special to realvail.com
Blog Tools
Comments
Permalink
Foreign travelers eager to jump at giant 50-percent off sale called the U.S.
By Chris Anthony
May 28, 2008 — With the U.S. dollar plummeting internationally, I'm learning a couple of things:

1. How incredibly poor I am as an American abroad, epecially here in Australia.
2. How important it is to be marketing tourism to an international market to come to the U.S. since our country has gone on sale at 30 to 50 percent off.

Here's the simplest way to understand this:

The last time I was in Australia the average cost of breakfast was $15 in Australian currency. I could subtract about 30 percent from that when converting it to U.S. dollars.


Now I'm down here and that same breakfast costs $19 in Australian currency but the conversion is almost equal to the U.S. dollar - making that average lunch cost more than eating at a top-end restaurant in the States.

I've also learned that an average resident of Australia must earn more than we do in our economy, so the cost of goods seems relative to their income. For example, when it was my turn to buy a round of drinks the other night, two beers and two mixed drinks cost me $47 in Australian dollars.

This was no big deal for my Aussie friends but was killing my American friends. Trying to find a pair of Jeans when I ripped mine was completely embarrassing. I could not find an average pair of jeans for less than $75, and that was at an outlet store where they were selling defects. Everyone I talked to said this was a huge bargain for a pair of jeans that would go for more than $150 to $200 on sale at a regular retail store.

My point is that it's more important than ever to invite the international market to travel to the U.S. and spend some of their money. Since we are apparently moving backwards with foreign trade and our dollar is literally dying, we definitely need to sell the two things we do very well: tourism and recreation, especially skiing!

Colorado Ski Country USA has set up a booth in the lobby of the theaters premiering the new Warren Miller film here in Melbourne and Sydney, Australia, where the promoter has hosted on average three shows a night, with incredible attendance.

During the days I work with a representative from Colorado Ski Country as well as a local, well-connected PR person by the name of Leigh Mahoney. It is amazing the interest there is in traveling to Colorado and skiing.

The combination of all we have, along with my presence here, has opened up tons of media opportunities. Basically we have blanketed the country with the idea of traveling to and skiing in Colorado. Even more amazing is the number of skiers and snowboarders there are in the general population down here.
Thanks to the combination of Colorado Ski Country, Warren Miller Entertainment and the Park Hyatt, the impact we have had down here is amazing. And the force of Colorado Ski Country as an overall marketing body for the state of Colorado is beyond beneficial for each individual area.

Next: The Park Hyatt Australian-style – truly world class


Submit a comment on "Colorado Ski Country markets our slopes Down Under"
---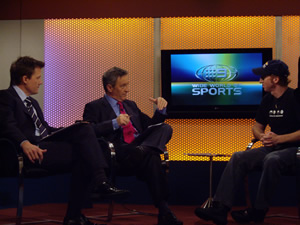 Chris on the set of Wide World of Sports Australia. While on the set, Anthony met with another guest, Tim Cahill - one of the best footballers in the world.
Special to realvail.com
Blog Tools
Comments
Permalink
Pimping powder to the sports crazed fans Down Under
By Chris Anthony
May 20, 2008 — It is one thing to be able to be a part of annual Warren Miller film. But it is another to have the opportunity to travel as an athlete with the film as it opens up in theaters around the world. I have had this opportunity a few times in my life, and this month Iím in Australia bouncing around from Sydney to Melbourne, as well as a quick stop on the Gold Coast. Iím staying at the Park Hyatt, which amazing in its own right.

As Colorado heads into spring, Australia is moving toward autumn, and people are thinking about snow. The timing is perfect to market Northern Hemisphere winter products to the potential destination travelers from Down Under. Entities such as the Park Hyatt Beaver Creek Resort & Spa, Vail Resorts and Colorado Ski Country USA all have recognize the importance of brand exposure Down Under, and Iím doing my best to carry their flags through an explosion of media opportunities.

The catalyst for this media buzz is the Warren Miller Film Tour. The film and the name have a following in Australia that goes back a couple of generations now. This is the 58th edition of the film, and the 21st year that it has toured in Australia.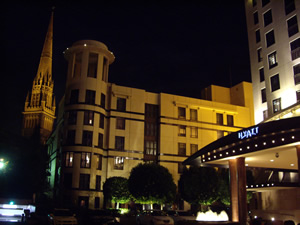 The Park Hyatt in Melbourne, where the blogger is staying, is a truly spectacular property.

Not only do the Aussies love the film, but they love traveling and skiing. They are basically addicted to anything that has to do with sport. In general, their media look beyond the limits of ball and sticks sports and try to treat all sports with equal attention. It is so refreshing to see a swimmer, for instance, be as popular as Carmello Anthony, or a womenís net ball player get some love and perhaps co-host a sports show with equal billing as that of ESPN in the U.S.

The mix of athletes is diverse. Rugby, footy, track, swimming, cycling, soccer and tennis all take front stage. It is beyond cool and allows for a sport like skiing to be on the frontline in the mainstream media, even in a country that barely gets any snow. The audience members become fans of the sport and thus curious to see the Warren Miller film, and then like all Aussies travel abroad.

This week I have done an interview on several sports talk radio shows, as well as pre-taped a couple of television programs in both Sydney and Melbourne. This has all taken place within the first four days Iíve been here. I even had the pleasure of meeting one of soccerís top players, Tim Cahill. We spoke about his experience playing in the World Cup (where he has scored three goals), working through injury, as well as working with kids, while we were hanging in the dressing room readying for an interview on the ďWide World of Sports.Ē

Then I flew off to Melbourne and did several phone interviews from my Park Hyatt hotel room, ran over to take a look at the tennis center for the Australian Open, and then got lost several times in these two amazing cities. I didn't even get a chance to go to opening night.

1 Comment on "Chris Anthony continues the Warren Miller tradition in Australia"

Submit and read more comments on "Chris Anthony continues the Warren Miller tradition in Australia" now!
---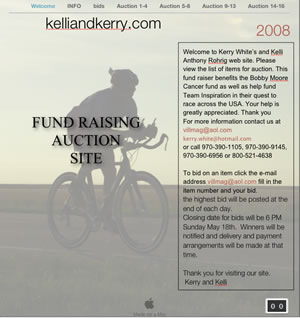 Blog Tools
Comments
Permalink
TEAM INSPIRATION to feature Kerry White and Kelli Anthony Rohrig
By Chris Anthony
May 7, 2008 — The history of the Race Across America is a long one, filled with thousands of great stories. Iíve only heard a few in passing, mainly because of the close ties the race has had with the Vail Valley through its many competitors over the years.

Between the triumphs, the losses and the amazing fights to overcome huge obstacles, the few athletes from the Vail Valley who have taken this on have not only represented our community in a positive light, but have also demonstrated superhuman strength.

This year my sister, Kelli Anthony Rohrig, is joining a British-organized, womenís four-person team with veteran Kerry White. Theyíre riding for the Bobby Moore cancer fund.

So now Iím really intrigued by the race, and with the recent loss of close friend Mike Janelle, a three-time winner of the race, I am proud to think that Kelli and Kerry will have Mike on their shoulders.

The concept of a bicycle race across America can be traced back to newspaperman George Nellis, who in 1887 crossed the USA on a 45-pound, iron, high-wheel bicycle with no gears and pedals attached directly to the front wheel. Following railroad routes across the country, he made the crossing in just under 80 days.

Every 10 years or so, the record would be reduced by a few days, but it was not until the 1970s, when John Marino got serious about finding how quickly a bicycle could be ridden across the country that the modern movement of trans-national cycling competition began.

Other riders began challenging the marks made by Marino, and by 1982 a group of riders decided they were ready for a head-to-head race. In its first year, the Race Across America (RAAM) was called the Great American Bike Race. Four riders lined up on the pier in Santa Monica and raced to New York.

The winner was Lon Haldeman. Since then the race has been run every year, always west to east. In 2008 the race begins in Oceanside, Calif., and finishes in Annapolis, Md. With its mid-June kickoff, RAAM starts close to the summer solstice to provide competitors the maximum number of daylight hours.

Vailís connection to the RAAM has been an extensive one. The Vail menís team, which has changed members over the last four years (with the exception of Janelle), won the event three years in a row (2005-07).

Past Vail menís teams have included: Mike Janelle; Zach Bingham; Toph Leonard; Nat Ross; Brett Smith; Jimmy Mortensen; Adam Palmer; and Brett Malin.

Malin was killed during the event in a tragic accident he turned back on a rise to meet the support car and didnít see an 18-wheeler coming.

The Vail womenís teams also won three the event three straight years (2004-06), changing a bit every year. This year, however, Vailís White has been recruited by the British TEAM INSPIRATION for the womenís four-person team. Thatís how my sister, Kelli, was added to the list of Vail locals who have been part of RAAM.

Vail women have included: Wendy Lyall; Michelle Keene; Linda Guerrette; Heather Sappenfield; Tristan; Kim Fields; and Kerry White (who won the Ian Sandback Inspirational award in 2004).

Last year, Kerry went out alone. There were a few teams riding for diabetes, but Kerry was the only diabetic to go at it alone. I believe Kerry has been the only local to race RAAM solo.

To help TEAM INSPIRATION raise the funds to race on behalf of the Bobby Moore Cancer fund, please stop by a fundraiser at 6 p.m., May 14, at E-Town in Edwards. And be sure to check out the online auction posted at www.kelliandkerry.com.

Follow the raceís progress starting June 8 at www.raceacrossamerica.org, and for more information about TEAM INSPIRATION go to www.teaminspiration.co.uk.


1 Comment on "Rich tradition of Vail riders in Race Across America continues"

Submit and read more comments on "Rich tradition of Vail riders in Race Across America continues" now!
---
Read More Blog Entries

Next
Last
Blog entry 1 through 4 of 26 total entries
Bloggers Profile and Information