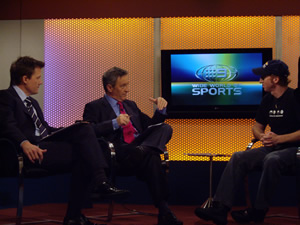 Chris on the set of Wide World of Sports Australia. While on the set, Anthony met with another guest, Tim Cahill - one of the best footballers in the world.
Special to realvail.com
Blog Tools
Comments
PermaLink
Chris Anthony continues the Warren Miller tradition in Australia
Pimping powder to the sports crazed fans Down Under
By Chris Anthony
May 20, 2008 — It is one thing to be able to be a part of annual Warren Miller film. But it is another to have the opportunity to travel as an athlete with the film as it opens up in theaters around the world. I have had this opportunity a few times in my life, and this month Iím in Australia bouncing around from Sydney to Melbourne, as well as a quick stop on the Gold Coast. Iím staying at the Park Hyatt, which amazing in its own right.

As Colorado heads into spring, Australia is moving toward autumn, and people are thinking about snow. The timing is perfect to market Northern Hemisphere winter products to the potential destination travelers from Down Under. Entities such as the Park Hyatt Beaver Creek Resort & Spa, Vail Resorts and Colorado Ski Country USA all have recognize the importance of brand exposure Down Under, and Iím doing my best to carry their flags through an explosion of media opportunities.

The catalyst for this media buzz is the Warren Miller Film Tour. The film and the name have a following in Australia that goes back a couple of generations now. This is the 58th edition of the film, and the 21st year that it has toured in Australia.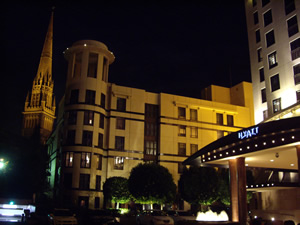 The Park Hyatt in Melbourne, where the blogger is staying, is a truly spectacular property.

Not only do the Aussies love the film, but they love traveling and skiing. They are basically addicted to anything that has to do with sport. In general, their media look beyond the limits of ball and sticks sports and try to treat all sports with equal attention. It is so refreshing to see a swimmer, for instance, be as popular as Carmello Anthony, or a womenís net ball player get some love and perhaps co-host a sports show with equal billing as that of ESPN in the U.S.

The mix of athletes is diverse. Rugby, footy, track, swimming, cycling, soccer and tennis all take front stage. It is beyond cool and allows for a sport like skiing to be on the frontline in the mainstream media, even in a country that barely gets any snow. The audience members become fans of the sport and thus curious to see the Warren Miller film, and then like all Aussies travel abroad.

This week I have done an interview on several sports talk radio shows, as well as pre-taped a couple of television programs in both Sydney and Melbourne. This has all taken place within the first four days Iíve been here. I even had the pleasure of meeting one of soccerís top players, Tim Cahill. We spoke about his experience playing in the World Cup (where he has scored three goals), working through injury, as well as working with kids, while we were hanging in the dressing room readying for an interview on the ďWide World of Sports.Ē

Then I flew off to Melbourne and did several phone interviews from my Park Hyatt hotel room, ran over to take a look at the tennis center for the Australian Open, and then got lost several times in these two amazing cities. I didn't even get a chance to go to opening night.

1 Comment on "Chris Anthony continues the Warren Miller tradition in Australia"