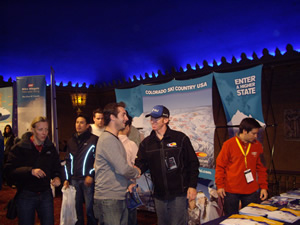 Vail's Chris Anthony mans the Colorado Ski Country USA booth at a screening of the new Warren Miller ski film in Australia recently.
Special to realvail.com
Blog Tools
Comments
PermaLink
Colorado Ski Country markets our slopes Down Under
Foreign travelers eager to jump at giant 50-percent off sale called the U.S.
By Chris Anthony
May 28, 2008 — With the U.S. dollar plummeting internationally, I'm learning a couple of things:

1. How incredibly poor I am as an American abroad, epecially here in Australia.
2. How important it is to be marketing tourism to an international market to come to the U.S. since our country has gone on sale at 30 to 50 percent off.

Here's the simplest way to understand this:

The last time I was in Australia the average cost of breakfast was $15 in Australian currency. I could subtract about 30 percent from that when converting it to U.S. dollars.


Now I'm down here and that same breakfast costs $19 in Australian currency but the conversion is almost equal to the U.S. dollar - making that average lunch cost more than eating at a top-end restaurant in the States.

I've also learned that an average resident of Australia must earn more than we do in our economy, so the cost of goods seems relative to their income. For example, when it was my turn to buy a round of drinks the other night, two beers and two mixed drinks cost me $47 in Australian dollars.

This was no big deal for my Aussie friends but was killing my American friends. Trying to find a pair of Jeans when I ripped mine was completely embarrassing. I could not find an average pair of jeans for less than $75, and that was at an outlet store where they were selling defects. Everyone I talked to said this was a huge bargain for a pair of jeans that would go for more than $150 to $200 on sale at a regular retail store.

My point is that it's more important than ever to invite the international market to travel to the U.S. and spend some of their money. Since we are apparently moving backwards with foreign trade and our dollar is literally dying, we definitely need to sell the two things we do very well: tourism and recreation, especially skiing!

Colorado Ski Country USA has set up a booth in the lobby of the theaters premiering the new Warren Miller film here in Melbourne and Sydney, Australia, where the promoter has hosted on average three shows a night, with incredible attendance.

During the days I work with a representative from Colorado Ski Country as well as a local, well-connected PR person by the name of Leigh Mahoney. It is amazing the interest there is in traveling to Colorado and skiing.

The combination of all we have, along with my presence here, has opened up tons of media opportunities. Basically we have blanketed the country with the idea of traveling to and skiing in Colorado. Even more amazing is the number of skiers and snowboarders there are in the general population down here.
Thanks to the combination of Colorado Ski Country, Warren Miller Entertainment and the Park Hyatt, the impact we have had down here is amazing. And the force of Colorado Ski Country as an overall marketing body for the state of Colorado is beyond beneficial for each individual area.

Next: The Park Hyatt Australian-style – truly world class


Comment on "Colorado Ski Country markets our slopes Down Under" using the form below