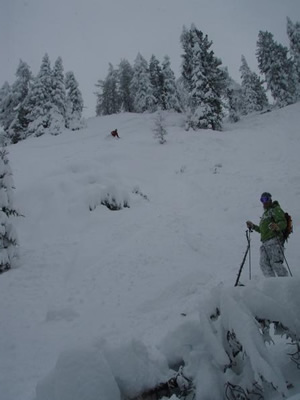 Italian skiers prefer groomed pistes and largely leave the glades in and around Cortina to powder-hungry Americans.
By Chris Anthony
Blog Tools
Comments
PermaLink
Cortina: you are now entering the Twilight Zone of skiing
No lines, empty parking lots, tons of untracked powder
By Chris Anthony
January 18, 2008 — CORTINA D'AMPEZZO, Italy - I have just left Colorado, where the skiing has been literally been so amazing that at times I had to use a snorkel. I honestly do not remember when conditions have been as good as they have been the last several weeks in the Vail Valley.


It was not easy to get on a plane and leave it behind. But now Iím now in Cortina, Italy, where Marco Tonazzi and I will be hosting a special version of our Italy camp. Usually known as ďThe Wine & Dine Tour with a Skiing Problem,Ē we have put a different spin on this one, as the group will be spending more time in Cortina.


We are timing the trip with the womenís World Cup ski races, and our group will be cheering and partying VIP style with U.S. Ski Team supporters as the womenís team takes on the world in Cortina. Since we are on the subject, I would like to start taking names and putting together groups for next yearís Italian adventure. If you are interested, contact me at chrisaski@aol.com or register on www.chrisanthony.com.


Now check out my Italian ski diary - Day 1:


Our Arrival in Venice was easy. While some of the group went to have lunch via water taxi, the rest of the group flew in on late flights. When everyone was on the ground we jumped in a car and headed to the luxury resort of Cortina.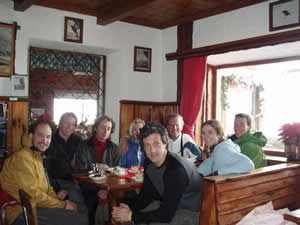 Dining in small, family-owned mountain-top restaurants is part of the charm of skiing in the Italian Alps.

We are doing this trip top-shelf, so what Iím going to do is give you a day by day should you ever want to copy this trip.


Hotel on main strip: Hotel Anocora, four stars and the best reviews in Cortina. The prices equal the rep but are minimal compared to staying in the center of Vail or Aspen.


We hit a small wine and cheese bar off the main street of Enoteca, where we had some red wine from Marcoís part of Italy, the Fruili region. I also suggest getting the assortment of meats called speck, and the round cheese.


Day 2:


I woke up to about of foot of fresh snow on top of a couple of feet already accumulated this past week in Cortina. Needless to say, I was delighted. Then I grew concerned after breakfast when I noticed that people were coming in from outside rather than heading outdoors. My immediate concern was that the trams were closed, but that was not the case.


The reason people were coming in was because there was too much snow for them. Unlike the U.S., skiing has a very different culture here in Italy. They like the groomed piste and could care less about the powder skiing, which is perfect for the likes of me and my group.


We left Hotel Ancora and walked over to a tram (#51 on the trail map), which took us up 1,500 meters to the Falora Plateau, From here we could ski down or go up above tree line and ski some fun, flat-light groomers or sneak into some steep chutes. We chose to ski down toward the opposing valley and stay below tree line for better visibility. We headed toward the ski area of Cristallo.


I noticed that none of the trees had been skied. Due to the tremendous amount of snow lately, the usually unskiable trees looked very approachable. It was strange to see gladed forest from the lift with no tracks at all. So after a couple of runs on the piste I finally dipped into the trees.


I felt like I was in a Dr. Seuss book where the illustrations resembled a perfect world of pillow drops in a cartoon gladed forest. It was amazing, as no one but our group considered dropping into the trees run after run. We eventually took a break in the Cristallo at a restaurant and enjoyed a meal of wild game, warm wine and strudel. That night I was hoping for dinner with the U.S. Ski Team.


Day 3:


We woke up to another 10 inches of snow today, which is not good for the World Cup but is awesome for our group to go out and get some very unique skiing in.


Race organizers canceled the womenís downhill training run due to the amount of snow that has fallen from the heavens here. This means they have to get a training run in Friday for the downhill to happen Saturday, followed by a super-G Sunday.


For the U.S. women, Iím actually hoping it clears up. I would love to see Vailís Lindsey Kildow Vonn and Julie Mancuso do well here. This is one of their favorite courses. We ran into Lindsey the previous night at dinner, and she seemed in good spirits, but you could tell that the weather was stressing her a bit. Right now she is doing well in the overall World Cup standings, and leads the downhill standing. A good result here on one of her favorite courses could really propel her.


The immense amount of snow meant that our group had to change plans as well. Marco Tonazzi was going to take us on the four-pass tour, which is a 40-kilometer loop from valley to valley that can be done on skis in one day. We would use a combination of lifts, horses and one bus ride.


It is a spectacular trip with amazing views, as this region of Italy maintains more than 500 lifts and thousands of connecting trails. But since thre was so much snow we stuck to Tofano just outside of Cortina and skied slopes surrounding the womenís downhill course, where an army of course workers were laboring all day shoveling snow from the course.


When we arrived at the parking lot at the base of the Tofano tram at 9:45, there were only six other cars in the parking lot, which just goes to show how different the skiing culture is in portions of Italy. Not only do they party late, they start skiing late and really do not enjoy the powder or first tracks like Americanís are fanatical about. So getting first tracks is not a big deal.


As I described in Day 2, one can look from the lift at limitless open spaces of powder. In the case of the Tofano side of Cortina, there is huge avalanche potential. The mountains surrounding the village are so big that they honestly cannot control them, so they just let it run a natural cycle and close anything in its path. After 400 years of living amongst these mountains and beneath this danger, the Italians have learned to just basically avoid avalanches by trying to stay out of the way.


There are constant reminders in Europe of how the skier is really out in the wilderness and responsible for themselves. They do not have ski patrol. They have police that write you tickets for basically being dumb, but being dumb is hard to avoid, as you should see the tree skiing around here. Unreal!


I had run after run of gladed tree skiing with no tracks, pillow drop after pillow drop with steep aspects and cliffs that one could bound off of without a problem, or so I thought. There is a ton of stuff on the forest floor around here. If you do not keep your eyes open, then your skis will go under a log, which happened to me on Day 3, and now I have a swollen shin to prove it.


It was a matter of bad luck and good luck - the bad luck was that the slope I was skiing was so deep that snow was going over my head. The problem was this snow is so wet and sticky it didnít take long for my goggles to get caked and for my obscured vision to make it difficult to pick out hazards. Next thing I know, my ski was under a log and I was stuck lying on my back there in several feet of fresh snow in the middle of the forest.


Luckily, another American followed me and helped me out. Thank you, Dan. He clicked me out of my ski as to release me from the bondage. This was a bit of a wake-up call. I needed to respect what was going on as the day warmed in and we skied things that in the past I never thought could hold snow here. But now they were.


It is like the Twilight Zone. Tons of snow, empty parking lot, no lift lines and good friends to ski around with and make fresh tracks. Eventually we rolled into lunch at a family owned restaurant located on the hill (also unique to Europe) and drank warm wine with our new American friends, Dan and Forest from Seattle.


Hopefully Saturday (canít believe Iím going to say this) it will clear off enough for the womenís downhill to run. Also, we are taking our group by snowmobile to a mountain- top to eat dinner and then ski down under the stars. Or perhaps sled down. It is kind of a free for all here Ö


1 Comment on "Cortina: you are now entering the Twilight Zone of skiing"