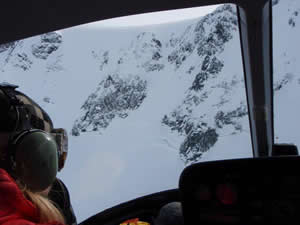 A heli's eye view of the Wave Tube crevasse in the fly zone of Points North Heli Adventures near Cordova, Alaska.
By Chris Anthony
Blog Tools
Comments
PermaLink
Heli Camp Day 4: Chris Anthony's crevasse encounter
The blogger plunges 20 feet into an icy abyss
By Chris Anthony
March 22, 2008 — It was supposed to be a down day. All the weather reports looked bad. Our morning meeting was spent trying to come up with ways we were going to entertain the clients for the day. Just as I went out to meet with my group of four campers and let them know this might be another day of sitting in the lodge or thinking of other ways to occupy our time, the sky started to clear. It wasn't supposed to, but it started to.


Fifteen minutes later Kevin Quinn radioed the guides that we needed to have another meeting. He activated the fire drill still thinking it would be a false alarm, but we needed to play the roll anyway. A half an hour after that the helicopters were firing up engines and I was scrambling to get all my gear together, as well as get my campers together and ready to fly.


It kind of reminded me of scramble time on the USS Nimitz, an aircraft carrier I visited with the Warren Miller Team.


With every minute the skies grew clearer and made it apparent why you have to be in Alaska and hanging close to the helicopters for this to happen. When Mother Nature lets us, she is going to let us, but it is all on her terms.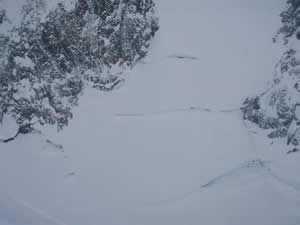 The crack that almost got the blogger is the third one up that looks like it's smiling.

My group of four, which included Greg Cook, David Noble, CJ Wolf and Geoff Beard, loaded into the heli like seasoned pros. A few rookie mistakes, but all in all they were awesome. This means good things for the day as the pilots will gain confidence in us and feel comfortable in putting us almost anywhere.


Our flight out to the zone is always thrilling, especially for first-timers. To watch their eyes light up the moment the helicopter leaves the ground is awesome. For as far as the eye can see, snow-covered peaks cover the landscape as we float in a heli amongst them. As we fly from one valley to the next, it just gets better and better.


For me, there is so much going on. I have the headset on so I can communicate with the pilot and try to collect as much information as possible from reports coming from other guides in the field. In the meantime, I'm looking out the window, not at the views but at the snow and different aspects of the snow, trying to access what it may be like or if it looks stable.


My mind is going a thousand mph collecting this data so I can make a decision on where to ask our pilot to try and land us. Meanwhile, sitting behind me I have four clients I have not skied with before, so I need to try and figure out their ability as well.


Up to this point I'm just going off what they have told me and from emails and watching their mannerisms around base camp. Unlike a ski resort, where the trails are marked and you can ride a chairlift to multiple options, landing on one of these peaks is a commitment.


There is no one that is going to get you down but yourself, so you better not have exaggerated your ability. Everything you have in the toolbox will be used at some point during the day, and the truth will be told.


We are not able to go for the first landing I wanted. The light was too flat on it and our pilot didn't feel secure with that. Fine with me. So as to not waste too much fuel and time poking around, I chose to land us where a couple of other groups had landed and just follow tracks.


We headed to the "Struddle" landing - one of the highest zones and with a great view - and skied into a run we call "Upper Guilt Trip." It's a multi-pitch line with a ton of variations on it. We skied it in three sections., with a total vertical of around 3,000 feet. It had some pretty decent snow on it.


I really wanted to put the guys on something fun, with good snow and no tracks. They showed they had the ability, so we went to a run called "Ice Box." This is a very difficult one to guide because it runs through a hanging glacier with multiple holes and crevasses on it. We landed the peak just behind another group, and their guide wanted me to back him up as he said the visibility was tough.


When I looked in I could see what he meant. Between the partially cloudy day and the fact the sun had not completely come up enough to illuminate the sky or create any shadows, we were flying blind around land mines. In fact, a blind man might have had a better view of what we were about to ski into than we did.


Needless to say, it took us forever to move down through the route. At one point we had three groups actually stacked up on one another, making it a bit of a cluster. But the reason was legit. The light was so flat you could not see. The last thing we needed was someone falling into a crevasse or off an icefall.


When we were done, I sensed a bunch of frustration, so I needed to try and pull out an ace. The heli picked us up and I requested one of my favorites. In the past, I've been turned away from this landing, "Ate the Worm," several times, pulled a fellow guide from a slide and even walked a client down who got so gripped on it he could not ski.


The landing is just a little larger than the helicopter itself and sits like a crow's nest with several thousand feet of exposure around it. The run is one of my favorites because I can keep an eye on my clients the entire way down, which makes me feel so much more secure. The snow is usually pretty good, while at the same time it is a big, exposed face. The group was thrilled about this landing and they skied it like champs.


This one was going to be a tough one to beat, but I tried. I flew us to an easy landing where we could drop into a run called "THE WAVE." I had an amazing time on this run once and never again, but I was hoping today would be the day. Nope.


When I went to ski cut it, I did not like what I saw. If anyone fell down the hard surface, they would go over rocks and into a crevasse, so I hiked out. I had to take them down another option that Kevin's wife named "Jesse's Run." She had already skied it with her group that day, so I figured, What the heck? I was wrong again.


Her group had skied all the good snow out of it and left me with a very steep narrow chute of broken and crusted snow over a hard surface surrounded by rocks - along with the fact the bottom had two large cracks running across the entire outrun.


So basically, if you fell at the top, you would not stop on the hard snow and then you would bounce off the rocks and be sent down the steep pitch into a crevasse. Not a good scenario. All I wanted to do was get my guys through this and out it as soon as possible, and I made it clear this was not a place to screw up.


One at a time I had them ski down to me, slowly an confidently, and then I than gave them further instructions to ski around to the far right, hug the cliff and ski over the two cracks quickly. To the left the two cracks were much too large to ski over.


They did it, all of them successfully, and I was completely relieved to have them off the slope and safe. I felt like an overstressed parent watching his kids do something very risky and just trying to be supportive instead of telling them not to do it.


Then it was my turn. I skied fall line from my safe spot, just to the left of everyone else's tracks and still above the two visually apparent cracks (bergstroms) that I had everyone avoid and I definitely wanted to avoid myself. Then all of a sudden the world gave away. I was falling. The sound was familiar, but nothing I could relate to here. It was as if a ton of snow had just let loose from a metal roof. It did not compute.


It happened so fast I didn't realize what had just occurred until I came to a dead stop. I had fallen in a crevasse, and now I was lying on a shelf 20 feet from the surface. Both my skis had blown off and I was sprawled on my stomach like a cat that had been thrown into the bathtub.


Behind me was a big bottomless abyss. Above me blue ice. In front of me a snow ramp that I thought I might be able to climb out of. But it was still settling.


I made a call on my radio that I was in a hole, and one of our heli pilots and a fellow guide picked it up. My group also noticed from below that I had disappeared, and they had started calling me on my Motorola radio that we all carry.


Once I was able to get my bearings I was able to free up one of one of my skis without too much of a problem or too much extra movement. I used it to make a shelf I could use for some security and hold onto an anchor. From that point I was able to pull out my other ski. I used it to create another platform to anchor onto.


Then I started to inch my way up away from the brink of the abyss. I crawled slowly for a while towards the surface, put one of my skis on to push upwards, and eventually reached the rim of the crack. I inched my way over and crawled out of the hole still above two other bergstroms exposed further down the slope.


I put my gear on gently and skied off towards the rocks on the side of the chute and started to shake, but I knew I just needed to keep going, so I skied quickly down the remainder of the slope to my group and tried to collect my thoughts.


I wanted to go home, but I needed to keep going. The heli picked us up, the pilots were all checking on me and we flew to a nice sunny "Struddle" landing again. The sun had risen and softened the snow going into an area called the "Velvet Valley." The rest of the day was spent there skiing the velvet. It was amazing. Run after run just got better and better.


When night came and it was time for me to lay my head down on my pillow, my dreams started to download what had taken place over the day, then turned into falling dreams over and over. But I never hit the ground.

Comment on "Heli Camp Day 4: Chris Anthony's crevasse encounter" using the form below