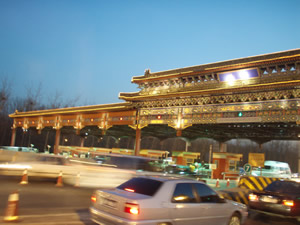 Beijing is a city of 60 million in a country of 1.3 billion, many of whom are becoming increasingly interested in outdoor recreation.
By Chris Anthony
Blog Tools
Comments
PermaLink
Dispatches from China
Taking snow sports to a billion-plus market
By Chris Anthony
January 23, 2008 — With a 24-hour layover in Vail after spending an amazing time in Cortina, Italy, I had to unpack, do some laundry, ski with a group and repack to head out again - this time China.


The facts are not hidden about China and its economic explosion and massive population of more than 1.3 billion people (2007 census). If only 3 percent of the population would ski or snowboard, that would be 43.3 million people. Colorado ski executives only saw about a 12-million skier day level of participation in skiing and snowboarding each season (see David O. Williamsí article, Former Vail execs, managers lead Asian ski boom by clicking on www.realvail.com/articles.php?artid=154.


This bit of information is partially responsible for me being on a Boeing 747 headed to Beijing, China, with five Aspen ski instructors to meet up with representatives of SNO International. After a quick visit to the Forbidden City and the Great Wall, our group will be split up into two groups visiting two ski resorts outside the city. I will be visiting the Jundushan Resort, escorted by Lei Yu from SNO International.


Iím hoping that this will lead to other opportunities here in China, as some of the worldís largest mountains are here and still need to be tapped. In fact, that process is starting to take place.

Night one: I arrived in the city of Beijing - current population, 60 million. Three million of them have cars, and that numberís growing. The public transportation systems rocks, but like everything else here is very crowded. But this culture is used to crowds.


This is supposed to be a communist country, but one cannot tell, as it seems to be operating on a free market system. It is sort of a hybrid in the middle of an economic boom.


Our guide, Beijing-born, Harvard-educated Roger Cheng, gives me the lowdown on whatís up with the city, particularly the real estate. It has become New York City. One thing, though: the rich are going to separate themselves further from the poor, and the middle class may suffer. It will be interesting to see how all this all pans out economically.


Bottom line, this place is exploding, and the young population is interested in travel and recreation. They enjoy the outdoors and are infatuated with America, where the dollar just happens to be weakening. On several televisions playing throughout the city, the X-Games are being broadcasted from Aspen.


Our mission is to help create an avenue for the young populations interested in skiing. Not only to learn the sport in China, but then to get them to travel abroad to participate in snow sports. My selfish plan would be to get them to Colorado and hopefully Vail. Aspen was a little more aggressive about it by setting up a package ready to go and mixed with a bit of western culture.


The Chinese are eager to learn to ski and snowboard, but do not have a formal teaching system, from what I have been told. For example, the small resort just outside the city where I will be visiting and hosting a clinic sees 5,000 beginner skiers a day, barely any of whom are taking lessons. They are just going at it on their own, or because the company they work for has a wellness program in place to get them out doing something thatís good for them. So letís hook íem.


The first night we are staying in central Beijing at a very nice five-star hotel: Xinhai Jinjiang Hotel at www.hotelxinhaijinjiang.com.


More to come. Until then, cheers from China.


Comment on "Dispatches from China" using the form below