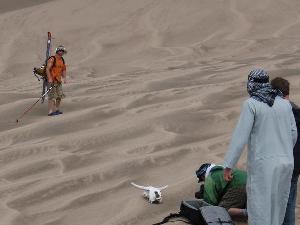 Chris Anthony appears in yet another Warren Miller film, this time deep in the desert. The latest Miller offering, "PLAYGROUND," debuts Oct. 25 at the Vilar Performing Arts Center at Beaver Creek.
http://www.chrisanthony.com
Blog Tools
Comments
PermaLink
Plethora of parties pump up ski season
By Chris Anthony
September 21, 2007 — Hello ski fanatics,


Welcome to my first blog. This is actually my first ever blog, so I'm pretty stoked to get this going, as I'm sure you are for the ski season to get underway.


There are so many things happening to prepare for the ski season that I have been going nuts getting ready for launch. This blog is mainly going to consist of those upcoming events.


First off, check out my website and register so you get my email blast at www.chrisanthony.com


I have just returned from a very successful Steep Skiing Camp in Portillo, Chile, that I host along with Chris Davenport, Mike Douglas, Shane McConkey and Ingrid Backstrom. It was our fourth annual "SKIING WITH THE SUPERSTARS CAMP," and we are going to do another one next year. So if you are interested in skiing with this group, join us next August. It is a kick in the pants!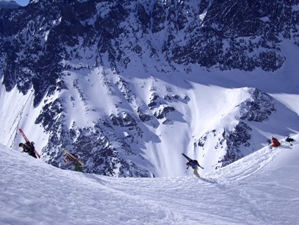 Chris Anthony is just back from his Skiing with the Superstars Camp in Chile, where campers earned some truly epic turns.

I have several other camps coming up this season: Alaska Heli Camp, Beaver Creek Technique Weeks, Italy Wine and Dine Tour with a Skiing Problem, as well as a possible Steep Camp in Aspen Highlands with myself and Chris Davenport.


But before all that we have the Warren Miller film "PLAYGROUND" coming out starting Oct. 25 in Vail, then hitting the nation for the next several weeks. To buy tickets, go to www.warrenmiller.com. The film features some pretty amazing images, including the Go Fast Jet Pack.


I also have a couple of parties coming up, starting with a fundraiser in Denver that's going to be big. It's called the 80's Ski Party on Oct. 20 (www.80skiparty.com), and then I'll be hosting the Points North Heli Operation in Edwards, Colo., Oct. 23 at E-Town, starting at 7:30 p.m.


We will do a video presentation and be on hand so you can learn more about the location where I run my Alaska Heli Camps out of. I'm going to be giving things away at both parties, so come join me on either Oct. 20 or 23.


I should mention the Oct. 20 party is a fundraiser for a very good cause. Come have some fun.


Until next time!

Cheers,


Chris Anthony http://www.chrisanthony.com


Comment on "Plethora of parties pump up ski season" using the form below