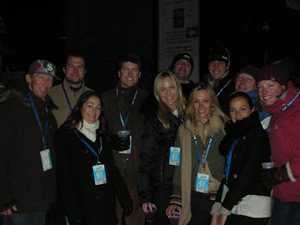 Living large with the Smallworld.com crew from NYC last weekend at the Beav'.
Special to realvail.com
Blog Tools
Comments
PermaLink
Sex in the mountains (with a lot of snow)
By Chris Anthony
December 14, 2007 — Things have slowed down for just a moment here in the Valley. One could say it's the calm before the storm. But what a nice calm it is. The locals can take advantage of the empty slopes and ski endless powder runs by themselves with no lift lines. This is one of the benefits of trying to live in a ski town with several of your friends in a one bedroom.


On that note, some of the core were in Beaver Creek last Sunday for the opening of Grouse Mountain. This is one of the most important days of the season in the Valley. It is the only time that Grouse has zero bumps on it and trackless snow. That combined with a high-speed quad and you can literally pluck off six Grouse Mountain runs in an hour. This is more than impressive. This is skiing for the entire season wrapped up into one day and one mountain.


I had the pleasure of hosting some new friends from NYC this past weekend. They're part of a group called Smallworld.com. This young A-list crowd took to the slopes like fish take to water. They also took to the nightlife like a moth to a light. Walking around with them I felt like I was on the TV show "Entourage." This is one tight group that knows how to have fun.


I know, enough analogies.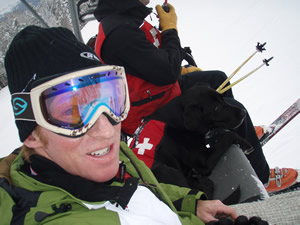 It really is a dog's life, as Chris demonstrates while hanging with his patroller buddy Brent and Brent's avy dog Blue.

Well, this NYC group made me laugh for two solid days. It is amazing how a bit of fresh snow can put a smile on a few faces. I hope to see this group back soon. They did mention they are all going to come on my Italy trip next year.


This brings me to a very important topic. Marco Tonazzi and I still have room for out Feb. 3 Valbruna, Italy, trip. Otherwise known as "The Wine and Dine Tour with a SKIING Problem." For more information, please visit my website at www.chrisanthony.com, or you can email skidynamic@hotmail.com.


I spent Thursday on the mountain with a journalist and a photographer doing an interview and skiing the Minturn Mile. It was the perfect day. The temperature was low enough to keep the snow super light and fluffy while the world around us was so calm. It was a beautiful ski down.


And on that note, the conditions are looking very good on the slopes. Enough to open more terrain this weekend. In Beaver Creek, Larkspur Bowl should be opening. I hope to see you there. As winter has blessed us with her presence and the backcountry is calling…


Until next time, cheers!


Comment on "Sex in the mountains (with a lot of snow)" using the form below