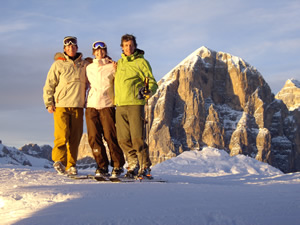 Chris Anthony, Becky Woolley and Marco Tonazzi take in the views atop Cinque Torri near Cortina, Italy, Sunday.
Special to realvail.com
Blog Tools
Comments
PermaLink
Cortina Day 6: American women super in the super-G
Mancuso 2nd, Vail's Vonn 5th in Cortina World Cup
By Chris Anthony
January 21, 2008 — We sort of rolled up to the super-G finish late on this blue-sky and very spring-like day Sunday in Cortina, Italy.


Looking around, most of the snow that had fallen over the last several days had turned to mush, and most of the southeast-facing aspects on these massive peaks had begun to release. Some pretty big slides had come down and covered the areas we had previously dipped into on more stable days. So this was predictable with the warm temps.


Two days ago I had noticed how the Italians did some control work on the loaded slopes. Near Val Gardena they had a helicopter flying around with a barrel at the end of a long line. In the barrel an explosion would take place as they hovered above a loaded slope. Iím assuming they were relying on the compression to set any loose slopes into motion. And it worked several times.

It was warm Sunday and the womenís World Cup ski-racing spectators were enjoying the scene, and it was another successful day for North Americans. American Julia Mancuso finished second, while Ski Club Vail product Lindsey Vonn finished fifth, and my Canadian friend, Brit Janyk, matched her finish from the previous day by coming in sixth. She was only three one-hundredths of a second out of third. Amazing.


After the race most of our group headed to the airport in Venice, but Marco Tonazzi, Becky Wooley and I headed up to yet another mountaintop - (Cinque Torri) and Refugio ( Averau) - to have another great meal, as well as a selection of drinks.


We waited till the sun sat on the horizon and skied an amazing run into another valley for the last lift ride back to the top. We went back into the Refugio, drank some more special blends and waited till the full moon rose over the horizon, took a picture, congratulated one another for a successful week and skied under the moonlight back towards Cortina.


I head home to Vail Monday, and then my next stop is China.


Should you ever want to join Marco and myself on one of these adventures, Iím already putting one together for next season. Check out my website at www.chrisanthony.com.


Cheers.




Comment on "Cortina Day 6: American women super in the super-G" using the form below