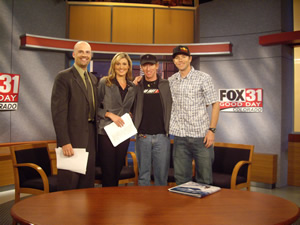 The Chris and Chris Show: Chris Anthony and Chris Davenport, shown here on Denver's FOX 31 promoting the sport they love, will team up for a steep-skiing camp dec. 28-30 at Aspen Highlands.
Special to realvail.com
Blog Tools
Comments
PermaLink
Keep it steep, deep and safe over the Christmas break
By Chris Anthony
December 18, 2007 — This is honestly one of my favorite times of the year. When all the lights are up, the second homes are filled with people from all over the world. Itís also great for the locals, as we do not have to go anywhere - it all comes to us.


But it does come with a price. Not only is this when the locals work the hardest, they too are also participating in the celebration. So everyone hang in there and exercise good judgment this holiday season. Letís come out of this with smiles.


The snow this past two weeks has been awesome! I love the cold temperatures. Iíve done a few photo shoots lately and the snow reacts perfectly for the camera when it is this light and dry. This is true Colorado champagne powder.


And with the latest technology in clothing, there is no reason to be cold out there even on the coldest days. So make sure to get out there, but dress correctly. Go get some Smart Wool or Obermeyer base layers and good socks. Get an Obermeyer Insulator, and, of course, an Obermeyer outer layer.


Then make sure to put your Rocky Mountain Sunscreen on even on the cloudy days. It will help protect beyond just the sun. Get a nice warm Chaos hat or a helmet to keep that head warm. Most of our heat goes out through our head.

I spent a couple of days in the backcountry recently. The snow stability was pretty good. It is never completely safe, but it was good. The cold weather has pulled the moisture up through the pack and helped to bond it a bit.


But this makes it also tough for after the next snowstorm hits if we have too many dry and cold nights because this layer that is being exposed to all this cold air will become the weak layer. So, long story short, it is a kick in the pants back there, but be careful. Two weeks ago there was massive settling.


Some side notes: Watch the TV8 Morning Show from 6:30 on. Iíll be giving things away on certain days over the holiday break, but Iíll only be doing this before 7:30 a.m.


Make sure you take advantage of the free concert series in town this winter. And Check out the Vilar Performing Arts Center. They have some awesome shows coming up.


Make sure to take time to remember those that will not be with us this holiday season.


And of course, stay tuned to my Blog as I head off to Italy to catch up with the U.S. Womenís Alpine Ski Team, China to visit some resorts, and Beaver Creek for my Park Hyatt Beaver Creek and Spa Technique Weeks camps. I will also be hosting a camp at Aspen Highlands with Chris Davenport on Dec. 28-30.


The Aspen Highlands Freeski Camp with Chris Davenport and Chris Anthony has been in the works for a couple years, and Chris and I are proud to finally offer three days of steep skiing, instruction and guiding at one of North Americaís premier ďbig mountainĒ resorts.


This camp is limited to 10 skiers only and is for expert skiers looking to take their skiing to the next level. The three day camp includes lift tickets and one on-mountain lunch at Cloud Nine Restaurant. Cost: $1,125. Contact Chris Davenport for more info or reservations.


Till next time, cheers


www.chrisanthony.com


Comment on "Keep it steep, deep and safe over the Christmas break" using the form below