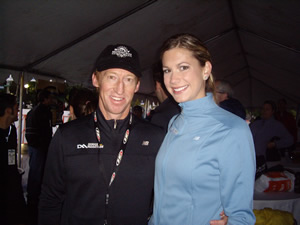 Blog Tools
Comments
PermaLink
Killin' it on the ski-promotion party scene
By Chris Anthony
October 30, 2007 — Well, I'm full onto the ski-promotion season. In the last three weeks I've been in Tahoe, Colorado, Maui, New York City, Denver, Boulder, Vail, Winter Park and Aspen. Nuts, indeed.


It snowed here in Colorado but now we are back into the Indian summer.


On Oct. 20 I hosted the 80's ski party in Denver at the White House Lounge. This was off the hook, with people really getting into it by dressing up. Outdoor Divas donated a pair skis to the best dressed 80's female skier (see images) and Chaos, Smartwool, Go Fast, Fly Low, Smith, Pentax, Coors, Grand Marnier and Rocky Mountain Sunscreen provided a ton of other prizes for this party. All the proceeds of entry went to the E.P.I.C Foundation. Got to www.80skiparty.com


On Oct. 23 Kevin and Jessica Quinn from Points North Heli Skiing joined me in Edwards, Colo., for a party at E-Town. Points North in Cordova, Alaska, is where I do my heli camps. The gathering allowed for a slide show and for us to be on hand to answers questions about heli skiing in Alaska and, of course, my camps. Got to www.chrisanthony.com.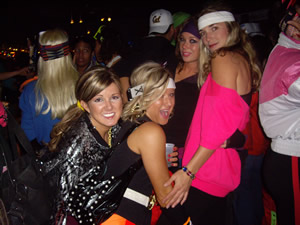 There was nothing shady about these 80's ladies at the White House Lounge in Denver.

Prior to these two events I was in the Big Apple doing a media tour on behalf of the Beaver Creek Park Hyatt Resort & Spa. We are sharing images of this incredible resort as well as encouraging magazines to write about the Park Hyatt Technique Weeks. If you are interested in this ski program, call the Beaver Creek Park Hyatt Resort & Spa at (970) 949-1234.


The new Warren Miller movie is now off and running! The name of this year's film is "PLAYGROUND". We did a small opening in Winter Park and will gradually grow to bigger venues through December. I checked out the film for the first time in Winter Park. IT ROCKS! Go to www.warrenmiller.com for times and dates. The Go Fast Rocket Man is going to show up at some events, and I will be there hosting as well. I'm also giving away materials from some of my sponsors like Chaos and Smartwool.


Bode Miller has officially signed on with Go Fast Sports! He is also featured in PLAYGROUND.


Vail Snow Daze, Dec. 3-9, 2007: Come celebrate the start of the winter season at Vail with incredible snow, terrain openings and the biggest early season party in North America, featuring a week-long calendar packed with daytime and nighttime events and activities. The week is highlighted by three nights of entertainment such as headliner bands Ziggy Marley on Thursday, Dec. 6, Social Distortion on Friday, Dec. 7, and Ludacris & the Roots, Saturday, Dec. 8.


Be sure not to miss the Dummy Gelunde World Championships; watch your favorite "dummy" crash and burn off the big air jump at Golden Peak! And after dark the fun continues with nightly entertainment all around town: bar parties, a fashion show, and Dine Around Vail (discounts at Vail's top restaurants), and more. Visit www.vailsnowdaze.com for ticket information.


Other cool websites: http://worldometers.info, http://www.goldenbeaver.com, http://www.chrisanthony.com, http://www.warrenmiller.com.


Until next time, cheers.


Comment on "Killin' it on the ski-promotion party scene" using the form below