About realvail Writers
Real locals, real writers, realvail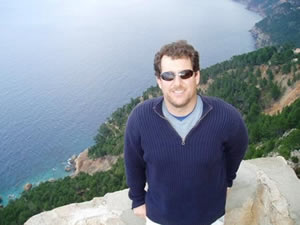 Real Blogs
More real Writers
Andrew Hood
Letters From Spain
realvail local since: November 1, 2007
Andrew Hood was editor of the Vail Daily when he somewhat reluctantly hired RealVail founder David O. Williams as sports editor. Hood enjoyed a distinguished two-year stint at the helm of the Daily in the early 1990s (despite Williams' shenanigans) before moving on to bigger and better things.

In the mid-90s Hood moved to Europe to cover cycling for a variety of publications before ultimately landing the gig as European correspondent for Boulder-based Velo News. His tenure perfectly coincided with the rise of Lance Armstrong, and Hood has authored two books on the Texan.

He also has worked the past two Winter Olympics for the Olympic News Service, again reluctantly bringing Williams and RealVail cofounder Tom Boyd into the fold for the 2006 Winter Game in Torino, Italy. Read about some of his exploits in the Real Rhetoric section of realvail.com.

Hood now lives in Leon, Spain, with his wife, Maria Jesus. His views on traveling in Europe will appear more or less on a regular basis in this space.


Andrew Hood's Blog: Letters From Spain...
Blog Entries by Andrew Hood
Headline
Post Date
Contador wraps up Tour de France as Armstrong secures third
Jul 25, 2009
British cannonball Cavendish wins again in Tour de France
Jul 24, 2009
Contador confirms he's top dog in Tour de France
Jul 23, 2009
Schlecks make their move in Tour de France; bounce Armstrong to fourth
Jul 22, 2009
Astarloza wins one for the Basques in Tour de France stage 16
Jul 21, 2009
Contador derails Armstrong's Tour de France comeback dreams
Jul 19, 2009
Cavendish shows he's deadly on all terrain in stage 11 of Tour de France
Jul 15, 2009
Cavendish unbeatable in sprints in 2009 Tour de France
Jul 14, 2009
Another French breakaway win in Tour de France signals resurgence (sans doping) on home soil
Jul 12, 2009
Sánchez shows how to win in break as Tour de France rolls through Pyrénées
Jul 11, 2009
Tour de France rookies shine at Arcalis; Armstrong drops to third
Jul 10, 2009
Hushovd storms to sprint win in stage 6 of Tour de France
Jul 9, 2009
Voeckler wins in first break of Tour de France; Armstrong still second
Jul 8, 2009
Armstrong just misses yellow jersey in stage 4 of Tour de France
Jul 7, 2009
Armstrong ups heat in Tour de France
Jul 7, 2009
Switzerland's Cancellara right on time to start Tour de France
Jul 4, 2009
Armstrong-Contador duel should divide – and liven up – Tour de France
Jul 3, 2009
Ski tuning in Spain falls victim to the 'Rule of Three'
Jan 30, 2009
10 Ways to Save in Paris (or any other big European city)
Nov 20, 2008
Obama fiebre grips Europe
Oct 28, 2008
Italian lessons II: Eating on the run
Jun 12, 2008
Italian lessons, Part I: Coffee-time, Roma-style
May 28, 2008
Save a buck traveling Euro-style
Apr 16, 2008
The incredible shrinking dollar
Mar 26, 2008
Sticker shock induces gas
Mar 12, 2008
Skiing Spanish-style
Mar 3, 2008
How I became a Belgian
Feb 21, 2008
Racing the Casbah in Qatar
Jan 30, 2008
Gut check in the USA
Jan 15, 2008
No Rox fever in Europe
Nov 17, 2007
Home is where the in-laws are
Nov 4, 2007