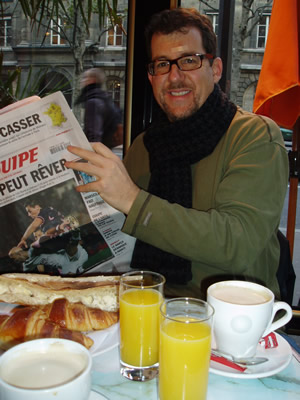 Blog Tools
Comments
PermaLink
10 Ways to Save in Paris (or any other big European city)
By Andrew Hood
November 20, 2008 — The world economic crisis might have a silver lining for lovers of European travel.

Two macro-economic shifts are having a positive effect on anyone looking toward a fall trip across the Atlantic.

With the sudden drop in both oil prices and the euro, the fall of 2008 is a great time to fulfill those European travel dreams that might have been on hold as the euro soared toward 1.60 to the dollar this summer (it's now at a two-year best against the euro, floating around 1.25 to the dollar).

And with oil prices back down around $65 a barrel, there's a flurry of last-minute flights to Europe that are once again affordable.

And with Barack Obama headed to the White House, the French no longer hate the Americans for just being born there.

I just returned from a five-day trip to Paris and found some ways to cut some corners on expenses that might make the trip a little easier to digest. Paris doesn't have to be any more expensive than a trip to any major city, especially if you're a little creative.

Here are 10 suggestions to save greenbacks in Paris:

1. Museum passes: Most big cities will offer multi-day passes that offer major discounts against individual entry fees on museums. In Paris, it's appropriately called the "Paris Museum Pass" and offers free multi-entry to more than 60 museums and monuments, including the popular Louvre, Orsay and Sainte-Chapelle. If you're a museum buff and plan on hitting several, it's worth it because most museums run between $8 to $18 euros per adult, per entry. Adult two-day passes start at 30 euros (about $38) per person.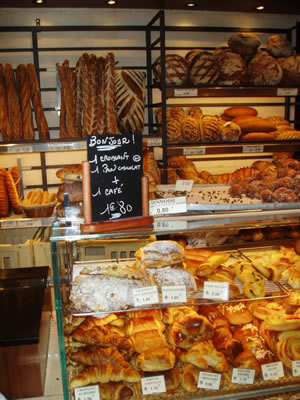 Breaky at this bakery was only 1.80, but no sit-down service

2. Skip Hotel Breakfast: Unless you're staying at a bed and breakfast or unless it's otherwise included in the price, most Parisien hotels do not include breakfast with the hotel room price. Hotel staff will certainly try to push breakfast, usually between $9 to $18 euros per person. It's cheaper and more adventurous to skip the hotel breakfast and instead take your café au lait and croissant at a local cafeteria. A basic breakfast that includes coffee, croissant and baguette along with butter and jam usually runs between $6 and $9. Most hotels don't offer much more and charge up to double the price.

3. Metro pass: Forget expensive taxis in Paris and hit the famous Metro subway system instead. At 1.80 euro a ride, it can get expensive if you're jumping on and off all day. Instead, buy a 10-ride pass for about $12 and save a little there. They can shared between two people (run it through the machine, walk through the gate and pass it back). For short trips, however, it's worth it just to walk. It's not only free, but it saves you the sweat equity of trudging up and down the endless flights of stairs below ground.

4. Rent bikes: Better than the metro and more fun is renting bikes. Paris now boasts an incredible system of free to very cheap bike rentals with check-in stations throughout the city, but they're only available to Paris residents or if you can somehow manage to get a French-issued credit card. Instead, tourists can rent decent-quality bikes near a city-operated rental shop near Les Halles for about $9 all day. It's a great way to get around and it's cheaper than taxis.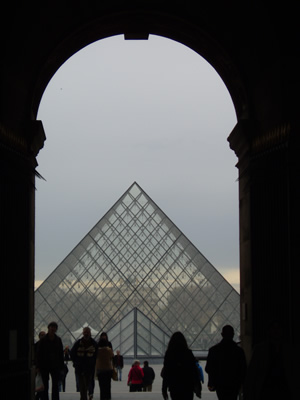 Discounts to the Louvre are worth it if you're a museum buff

5. Search out menus: Never buy anything a la carte in a Parisien restaurant unless you're a fool or ready to pay an arm and a leg. The best bet are the fixed menus that just about every restaurant will offer. Typically, there is a selection of three or four starters and three or four seconds. Some will include dessert and coffee, but almost never wine or drinks. We found a great restaurant in Saint Germain (Vins et Terroirs, 66 rue St. André des Arts) that offered a great three-course dinner menu for 19 euros. We bought a 24-euro bottle of Saint-Emillion and got out of there fat and happy for 62 euros.

6. Rent an apartment: If you visiting for a week or more or have a family and want more than one room, it could be worth it to rent an apartment instead of staying in a hotel. Check out rental agencies (such as www.rentparis.com) or check out Craig's List Paris for studios and one-bedroom starting at 75 euros a night. The added advantage of having a kitchen can help save money, especially on things like breakfast and beers

7. Off-season: Paris in the heat of summer is no fun, unless you like being packed onto the observation deck at the Eiffel Tower with 400 of your compatriots from Wisconsin. To discover what Paris was like before the advent of budget airlines, visit during spring or fall. Prices drop during the shoulder seasons, especially with hotels and restaurants. We went to Paris in late October and discovered a different city. There were only handfuls of tourists – as opposed to entire battalions – at such sites as Notre Dame or Montmartre and we felt like locals strolling through Saint-Germain and La Marais.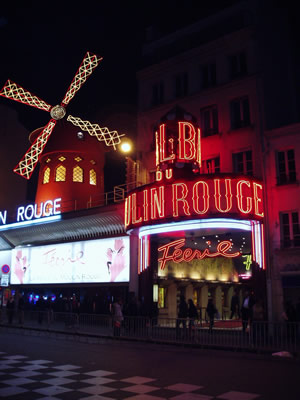 No discounts for the famous Moulin Rouge, which runs about $120 just for the show, add another $50 for dinner

8. Don't forget the picnic:
Packing your own lunch is one sure-fire way to save money. Those delicious French bakeries are the best place to load up for a gourmet lunch on the cheap. You can buy ready-made baguette sandwiches and salads with a pain au chocolate for dessert for about $10 per person. Besides the Champs de Mars below the Eifel Tower, my favorite place for that perfect Parisian picnic is the small park on the western end of the Ille de la Cité, just below the Henry II statue off Pont Neuf.
9. Free stuff:
Even in Paris, walking and breathing are free. Most tourists seem obsessed with packing in as many museum, churches and monuments as they can, but the real beauty and charm of Paris isn't found at its famous sites. Instead, grab a good map and just start wandering. Perhaps more than any city in the world, Paris is literally a living museum. Skip the Champs-Elysées and instead stroll beyond the Jardin du Luxembourg in the sixth or in the old Jewish neighborhood in La Marais in the fourth. There are also dozens of free museums and sites in Paris as well, including the fascinating Musée de l'Histoire de Paris-Carnavalet in La Marais (23, rue de Sévigné), just west of Place des Vosges.
10. Happy hour:
As much as French like to deride America, they seem to secretly love everything they so publicly loathe. I've never seen a McDonald's so crowded as just about anywhere in France than at lunchtime. One of the finest American institutions has arrived in Paris with aplomb (and I'm not talking about Starbucks). In just the past few years, Parisian bars have embraced the concept of happy hour with gusto. Between 5-9 p.m. throughout the city of lights, drinkers can wallow in the joy of affordable beer and drinks. Bars offer either two-for-one or upsales on pints that usually go between 3.50 to 5 euros a pop, well below the normal asking price of $10 a draft beer come prime time.

4 Comments on "10 Ways to Save in Paris (or any other big European city)"