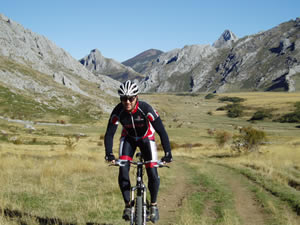 The blogger proves biking Ireland is a sunny jaunt in the park compared to the fierce elements of northern Spain.
Special to realvail.com
Blog Tools
Comments
PermaLink
How I became a Belgian
By Andrew Hood
February 21, 2008 — When I wed my lovely Spanish lass some six years ago, I imagined my new life would be spent idling away the nights devouring tapas and tangy bierzo wine after blissful days of spinning my bike past vineyards and castles.


Perhaps I should have done a little more due diligence ahead of taking my holy vows.


Little did I know that León is derisively called the frigorífico de España, the refrigerator of Spain. Tucked up against the wild Cantabrian mountains, where Europe's last grizzly bears and a growing population of Iberian wolves still roam, León is baking hot in the summer and bitterly cold in the winter.


Think Laramie with a heavy Spanish accent.

While summers are short and hot, winter lasts longer here than a French railway worker's strike. When the rest of Spain has broken out of the grip of winter and enjoying sunny spring days as soon as late February, León is still cold. And it stays cold well into April and May.


There's a popular refrain that's describes León's lingering mush of gray skies and cold winds: Hasta el cuarenta de Mayo, no se quita el sayo, which loosely translates to, until the 40th of May (ie., June 10), don't put away your winter jacket.


If you ride a bike in León, you keep your sayo close at hand. And your leg warmers, tights, gloves, vests and shoe covers, too.


My first winter here saw me facing this new reality. Storms systems swirling out of the northern Atlantic would plow into León, leaving behind rain, bone-chilling temperatures and blustery wind.


I said to hell with riding and stayed warm by throwing down chupitos of tangy orujo or sweet pancharán. It was simply too cold and windy by my fair-weather standards and I refused to ride until weather improved. Soon enough, I hardly rode at all.


In Colorado, wait two hours and the weather changes. In León, waiting for good weather simply meant getting fatter.


Grudgingly, with my curva de felicidad (the curve of happiness, reserved for married men firmly off the market) growing ever larger, I began kitting up for wintertime rides.


Each afternoon, I would waddle out of the door of our flat along the Rio Bernesga and look at the leaf-less branches to get a fix on which way the wind was blowing. I would ride one hour or so into the wind, then let the tailwinds push me back home in time for lunch.


Finally this winter, I became a Belgian.


I stopped worrying about the wind or the cold or the rain.


I threw out my 10C rule (about 50F) and started riding just about any day that was short of a major deluge.


The wind became my own poor-man's SRM system. I could gauge my efforts by how hard the wind was blowing against the length of my ride to formulate my expended energy (equated, in my mind, on how many tapas I could safely eat later that night without gaining back too much happiness in my girth).Even the rain became an afterthought.


Finally, I didn't care what the weather was. Riding when it was cold and miserable became some sort of twisted badge of honor. Only once this winter have I turned back for rain.


Sure, I'd love to ride in the sunnier, milder climes along the Costa del Sol or Mallorca. But there's no leaving León. And I've finally accepted that. And I couldn't be happier.






1 Comment on "How I became a Belgian"