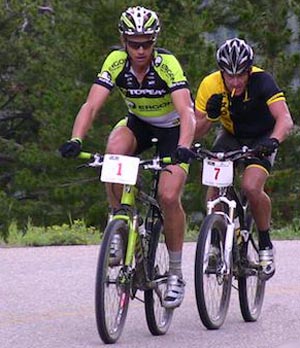 Lance Armstrong rides behind Gunnison's Dave Wiens during the Leadville 100 race in Colorado earlier this year. Armstrong placed second in the race behind Wiens. Armstrong told Vanity Fair the race was one of the reasons he's fired up to return to the Tour de France.
superhumanmag.com
superhumanmag.com
Lance Amrstrong might prove human after all in 2009 Tour de France comeback
By Andrew Hood
September 10, 2008 — As if his comeback 10 years ago wasn't enough of a fairytale story, Lance Armstrong wants to defy the odds yet again.

His stunning confirmation Tuesday that he is returning to competitive cycling in 2009 and taking aim at an eighth Tour de France crown has many scratching their heads asking why?

What does Armstrong have to prove?

He shattered the Tour's five-win barrier like a warm knife cutting through butter, reeling off seven consecutive Tour victories with sheer dominance and brutal supremacy that had the French crying in their croissants.

With seven straight wins, Armstrong already owns a record that everyone says will be all but impossible to break, so adding one more won't mean much.

At 37, Armstrong would become the oldest Tour winner by a year - Firmin Lambot won at 36 in 1922 - but that's not why.

Armstrong is doing it for one simple reason - because everyone says he can't.

The fiery Texan thrives on defying convention and there's no bigger challenge than returning to the highest level of sport's most demanding and cruelest sport.

Most cyclists hit the end of their productive years in their early 30s and usually try to hang on for a few more paychecks before hanging up the cleats.

Armstrong was different. He rocked out of cycling in the best shape of his career. He could have 10 straight Tours if he wanted to.

Instead, the pressure, the stress and accusations of dirty racing finally got to him. He defiantly left the sport the absolute ruler of his kingdom.

In 1999, Armstrong battled back from testicular cancer to win sport's hardest race in a story that became the stuff of Hollywood movies (curiously, a planned movie about his life never got off the ground).

After retiring, Armstrong enjoyed the fruits of his labor, dating starlettes and hung around with movie-star buddies Matthew McConaughey and Jake Gyllenhaal.

By taking aim at sport's hardest race for a record eighth time, however, Armstrong sets himself up for a crash landing.

Everyone agrees that Armstrong will return in fighting shape, but anything but victory will look like falling short.

Just like Michael Jordan missing a step when he came back to play basketball, athletes returning to chase their former glory set themselves up for disappointment.

Armstrong insists his comeback it's all about fighting cancer. He wants his second comeback to fuel worldwide interest in the fight against the deadly disease, and based on the media reaction so far, it will.

He was spared in his bout with cancer and turned into a superman by winning the Tour seven times.

If he falls short in his bid to win an eighth, he might prove himself human after all.

Perhaps that's just the kind of ending he needs to finally close the book on his sporting career.

Andrew Hood is European Correspondent for Velo News and writes a blog for RealVail.com.

Read the Velo News version of this story at www.velonews.com.


Comment on "Lance Amrstrong might prove human after all in 2009 Tour de France comeback" using the form below