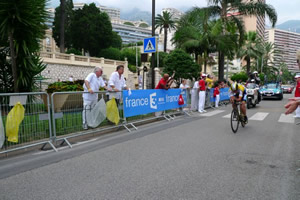 Seven-time Tour de France winner Lance Armstrong in action Saturday in the Tour's opening stage.
By Andrew Hood
Blog Tools
Comments
PermaLink
Switzerland's Cancellara right on time to start Tour de France
Armstrong a solid 10th in opening time trial after four-year absence
By Andrew Hood
July 4, 2009 — Fabian Cancellara was born to win time trials. He's big, powerful and, as a Swiss from Berne, knows a thing or two about being on time.

The reigning Olympic time trial champion proved why he's considered one of the all-time greats against the clock, winning Saturday's 15.5km opening stage of the 2009 Tour de France and taking the race leader's yellow jersey for a third time in his career.

Cancellara erased a six-second deficit to 2007 Tour winner Alberto Contador at the top of the Cat. 4 Cote de Beausoleil midway through the course and turned it into an 18-second winning ride in Monaco.

"I am very proud, because I was one of the top favorites here before the race and I knew if things went well, it would be very difficult to beat me," said Cancellara, who was the only rider to finish under 20 minutes on the challenging course. "I put in the maximum effort."

The Big Swiss Time Machine – fresh off overall victory at the Tour de Suisse – stopped the clock in 19 minutes, 32 seconds (47.61kph) to claim the maillot jaune for the third time in his career. Contador was second at 18 seconds slower and Bradley Wiggins was third at 19 seconds off the pace.

Cancellara proved yet again he's one of the world's most lethal time trial specialists, adding Monaco to his Tour victories that delivered yellow in Liège in 2004 and London in 2007.

"I knew I could take it easier on the climb and avoid too much lactic acid in my legs. Then I could go really hard in the flats. That paid off," Cancellara said. "It's great to be back in the yellow jersey once again. Now everyone knows that Cancellara is back and he is stronger than ever. We will now defend the yellow jersey until the team time trial."

Defending Tour champion Carlos Sastre (Cervélo) -- who makes his winning attacks on the steep climbs in the Alps – finished 21st at 1:06 back, not bad for the skinny Spanish climber who had problems with his helmet.

"The sensations on the bike were good, but just as soon as I started, a piece fell off my helmet, and this disrupted my concentration a little bit. Right away, I couldn't maintain the position that I wanted," Sastre said. "I believe it was about 40 or so seconds to Contador (48 seconds) and the other more potent riders like Cancellara took a little more. I am content with the result, above all, just starting the Tour, which is what I really wanted to do."

Seven-time Tour winner Lance Armstrong rode to a solid 10th at 40 seconds off the pace in his first appearance since retiring in 2005. The 38-year-old Texan expressed satisfaction as his powerful Astana team put four riders into the top 10.

"I felt pretty good. I was a little bit all over over the place because the course wasn't consistent. For me I didn't have any big illusions. I didn't expect t to win or to take the jersey. I didn't expect a super, super performance," Armstrong said. "I was nervous, which is logical with those years away. I didn't necessarily feel comfortable. It's been a long time since I had that emotion of being on the ramp in the Tour."

The 96th Tour de France continues Sunday with the 187km second stage from Monaco to Brignoles. The hilly stage features four rated climbs, including the Cat. 3 La Turbie in the opening 10km, providing ideal terrain for breakaway attempts.

The day's final climb with 58km to go should provide the sprinter teams with plenty of road to set up their fast-twitch sprinters, with Quick Step looking to set up Belgian national champion Tom Boonen for the victory.

Former Vail Daily editor Andrew Hood now covers cycling and lives in Spain. His reports on the 96th Tour de France will appear daily on RealVail.com.

Comment on "Switzerland's Cancellara right on time to start Tour de France" using the form below