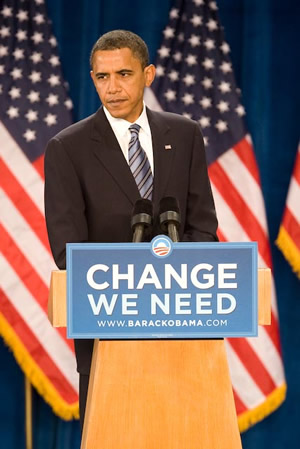 Blog Tools
Comments
PermaLink
Obama fiebre grips Europe
Spaniards demonstrate intense interest in presidential race
By Andrew Hood
October 28, 2008 — Spain is a great place for news junkies.

It's not so much how often you can feed the monkey in Spain's five major national dailies and three national sport dailies, but how you read them.

Spain's lively newspaper industry is blatantly partisan. El País, Spain's New York Times, is widely regarded as the official mouthpiece of the current Zapatero government, though its editorial writers would be loath to admit it. If you want the view of the opposing Partido Popular, read ABC.

That tendency of a shaded news coverage spills over to the tabloid-esque sports media. If you love Real Madrid, look no further than MARCA for the latest trade rumors, but if you want the latest on Futbol Club Barcelona, pick up El Mundo Deportivo.

Taking sides isn't wrong, it's expected. Crossing the line of objectivity is what it's all about in Europe. Writers are expected to have opinions, voice and style that have long died on the vine in the bland American corporate journalism that's taken root the past few decades.

So when Spain wakes up to café con leche and churros, they know to read between the lines in at least a few dailies to get the real picture.

One story that caught my eye last week was a small item in El Mundo about a gathering of Spanish protesters in Madrid to rally against the United States.

America's reputation has dropped faster than the dollar ever since ex-president José María Aznar sided with President Bush in the hugely unpopular war against Iraq.

But this story wasn't Spaniards protesting against anything American. Instead, it was a rally in support of Barak Obama.

Not that Europeans would be interested in world politics should come as a surprise.
European news is much more international than what's dished out by American-centric media, but the fact that a few hundred madrileños would turn out on a Saturday morning to carry signs and express their support for a U.S. presidential candidate was extraordinary.

Media coverage in Spain of the U.S. elections is impressive. All the dailies have full-time correspondents covering the campaign. The evening news is full of reports from Obama and John McCain's campaign.

Obama is widely admired in Spain and everyone across the continent is hopeful an Obama presidency would see a return of normal relations between the United States and Europe.

Under Bush, relations have strained to the breaking point, so much so that Spain's president Zapatero isn't even on speaking terms with Bush, who's still peeved that Zapatero pulled Spanish troops out of Iraq after he won elections in 2003.

During the darkest days of the Iraq war, when Donald Rumsfeld was lambasting "old Europe" for not having the spine to back its misguided war into Iraq, the Atlantic Ocean once against seemed like a giant gap between two diverging continents.

My Spanish friends simply cannot understand how Bush not only won his first term, but how he managed to win a second term after bungling just about everything in the first four years (I like to remind them that Bush stole two elections).

They cannot understand how Americans accept that there isn't any universal medical coverage. Why there's a death penalty or why there's so much poverty in the world's richest economy. Over here, just about everyone agrees that such things as medical coverage, strong unions and restrictions on guns are not only good policy, but just plain common sense.

The depth of interest in the upcoming U.S. elections has reached unprecedented levels following the latest financial crisis, which is spreading to Europe and causing economic pain across the continent.

Nearly everyone points to America as the source of the problems and they see Obama as a way toward a new direction.

Almost everyone complains that they cannot vote next week. What happens in Washington, D.C. has major impact not only Main Street but on the Gran Vía as well.



Comment on "Obama fiebre grips Europe" using the form below