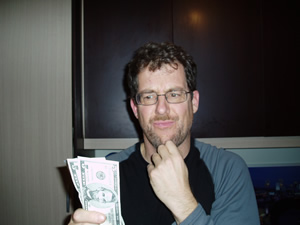 The blogger ponders the value of the dollar to the euro in spain, not once stopping to think how much cheaper it is to come to Vail.
By Maria Jesus Hood
Blog Tools
Comments
PermaLink
The incredible shrinking dollar
Demise of the once-mighty greenback removes luster from life as an ex-pat
By Andrew Hood
March 26, 2008 — The almighty dollar isn't so mighty these days.
The dollar continues to slide against the world's major currencies, with the English pound recently hitting the 2-to-1 threshold while the euro – introduced in 2002 in 10 European nations – hit an all-time high at 1.59 to the dollar.
When the euro was first introduced in 2002, it was trading about 84 cents to the dollar, so in just six years, the U.S. currency has lost nearly half of its value in Europe.
Things are downright ugly for Europe-bound travelers packing greenbacks. A hotel that costs 100 euros translates to $159 a night. Sucking dollars out of ATM machines is worse than going to the dentist. Extracting 300 in euros will set you back a painful $570 (not including bank fees, of course).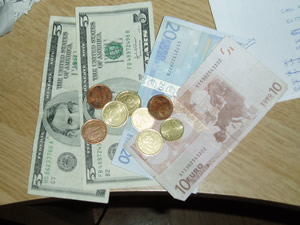 The devaluation of the dollar has made traveling to Europe a tough travel trick these days.

The sliding dollar is sure to put a cramp on travel plans this summer. I know many of my friends and relatives have postponed plans for trips to Spain until the dollar heats up.
It wasn't always like this, of course. The dollar used to be king.
I remember back in the go-go days of the late 1990s, one buck used to fetch a nice pile of Spanish pesetas when it traded at around 210 to one dollar.
I was living high on the hog, indulging in all the culinary delights of Europe, all on the cheap. My wife and I used to dine out three or four times a week, simply because it was ridiculously inexpensive and it was almost cheaper than buying groceries.
Not anymore. Dinners out that used to cost $25 are adding up to 60 euros (almost $100 when converted to dollars), so we're lucky to dine out once a week.
Things got worse during the botched conversion from Europe's old monetary notes of francs, liras and pesetas to the universal euro.
In the run-up to the 2002 introduction of the new currency, the European bank set each respective currency to an official rate pegged to the euro. In Spain, for example, the official rate was at 166 pesetas to the euro. In Italy, it was about 1,600 liras and in France around six franc.
When the euro was introduced, rather than set new prices at the official exchange, regulators left it up to the marketplace and many businesses took advantage of the switch to round up prices.
In Spain it became known as el redondeo.
For example, a café con leche in Spain used to cost 100 pesetas. When the euro was introduced, cafeterias simply rounded up to one euro. Simple enough, but the only problem was that represented a 40 percent price hike overnight.
It was the same all over Europe. In Italy, the reference was a pizza margarita, the traditional cheese and tomato pizza that almost always cost 6,000 liras. With the euro, prices were set at 5 or 6 euros, again a huge price hike.
I still can't get used to seeing my favorite Spanish appetizer – pulpo a la gallega, or steamed octopus, served with potatoes and lemon slices – that used to cost between 1,200 and 1,400 pesetas now running between 14 to 16 euros.
Salaries, of course, were converted down to the cent. But at least the Europeans are getting paid in euros.
Counting up euro cents and doing the depressing conversation has taken the romance out of being an ex-pat in Europe.
Maybe it's time to move to Canada, but wait, even the Canadian dollar has pulled to parity with U.S. dollar. Times are tough all over.

Comment on "The incredible shrinking dollar" using the form below