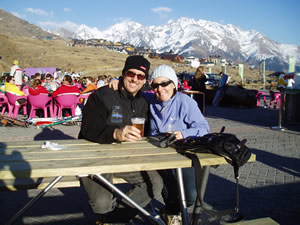 The blogger and his wife, MJ, partake in the best part of skiing Formigal, Spain: the après action.
Special to realvail.com
Blog Tools
Comments
PermaLink
Skiing Spanish-style
Feasting on freshies and fois gras at Formigal
By Andrew Hood
March 3, 2008 — Spain is renowned for its tapas, bullfights, beaches and paella. Skiing is not on the top 10 list.


That's not to say there's not some excellent skiing south of the Pyrenees. There are no less than 20 ski areas sprinkled throughout the peninsula, including Sierra Nevada, which towers over the Mediterranean beaches just 20 miles away in the heart of Spain's Andalucía region.


The best skiing is found in the Pyrenees, where summits can reach higher than 10,000 feet. Midget mountains by Colorado standards, but high enough to serve up decent snow conditions.


For years, we've been hanging in Valle d'Aran, the "Aspen" of Spanish skiing thanks to its bevy of movie stars and polticos that hang out in the stunning valley. The King of Spain owns a home at the base of Baquera-Beret and most of Spain's nouvelle rich are drawn to the slopes for Christmas and Easter holidays.

My brother-in-law was doing his best Colorado ski bum imitation and generously gave us prime couch space within eyeshot of the chairlifts in exchange for cold beer and homemade quesadillas. Couch surfing is truly international.


Luís, however, has high-tailed to India in search of spiritual enlightenment, leaving my wife and I with the unsavory prospect of paying for our skiing accommodation.


Anxious to try something new, friends told us about Formigal (www.formigal.com). Loaded with expert steeps and out-of-bounds runs, we made the six-hour drive to the Aragon Pyrenees psyched to get the boards strapped on for the first time all winter.


Global warming is killing off the ski industry in Spain. The past three winters have seen below average snowfalls and the entire nation is bracing for a summer drought that could be the worst in 20 years.


Formigal, however, isn't taking it sitting down and boasts the most modern snowmaking system in the country. Add a state-of-the-art chairlift system, and Formigal is more like Vail than anyplace else I've skied in Europe.


When we arrived for the last weekend of February, there was just enough snow to keep us satisfied. Tickets were 40 euros a day, a bargain by U.S. standards even with the tanking dollar.


More than 60 miles of trails were open, plenty to give us leg burn through the middle of the first day. Bumps were softened up by the strong Iberia sun and made for easy spring-skiing conditions.


The best snow was high up on a north-facing ridge served by rope tows where locals were ripping on ideal conditions. The views of Anayet (2559m), Pico de Escarra (2760m) and Peña Reiona (2761m) were stunning and I was storing away the information to come back later this summer to do some hiking.


We found a great room at Hotel Balaitus (www.casadelreyno.com) in nearby Sallent de Gállego, a backwater village that just happened to be at the foot of the best snow in Spain. Think Minturn with a Spanish accent and you get the idea.


The best came after the slopes closed. We hit après on the decks at the base of the mountain before hitting some rowdy bars in nearby Formigal.


From there, we went back to Sallent to regroup for dinner. Reservations are key and we ate like kings on grilled fois gras, artichoke baked with Spanish ham before two giant steaks. Add a cheesecake desert, a bottle of tangy Rioja wine and after-dinner chiputos, and the 70-euro price tag seemed downright egalitarian.


Too bad the dollar is trading at an all-time low. And good thing the wife was paying that night.


Comment on "Skiing Spanish-style" using the form below