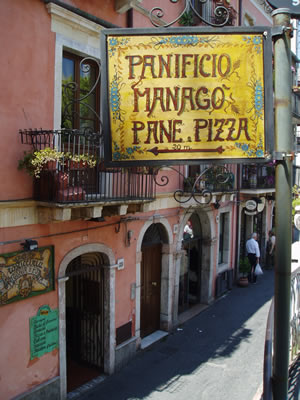 Search out the small family restaurants in Italy and you'll be richly rewarded with great food and lower prices.
By Andrew Hood
Blog Tools
Comments
PermaLink
Italian lessons II: Eating on the run
By Andrew Hood
June 12, 2008 — Eating in Italy almost feels like a sin.

It's so good, so delicious, so pleasing to all the senses that it almost makes you feel guilty.

The biggest peccadillo, however, is missing out on the authentic Italian experience and getting trapped by hit-and-run restaurants plying the rich tourist trade.

Whether you're in Venice, Florence or the Costa Amalfi, if there's a view, there's a very good chance that the food won't be very good.

Sure, the spaghetti pomodoro will seem pretty damn good compared to what you get from your local Carrabba's Italian Grill, but it will pale in comparison to the gems packed full of locals, usually just around the corner.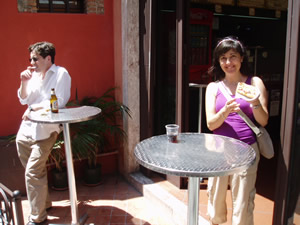 The blogger's wife, Maria Jesus, demonstrates the right way to dine on the move in Sicily.


Eating doesn't come cheap in Italy these days, but there are ways to stretch the dollar to save up to make the splurges really count.

Just as it will cost you more to sit down to sip your coffee, you pay a premier to sit for a meal.

For those willing to take their meals on the run, there are plenty of affordable and tasty options to save some money and still get a great meal at a discount.

Italy is full of little family-run shops, called paninoteca, selling panini, focaccia and mini pizzas sold by the weight.

One of our best meals was during a recent visit to Sicily. We bought two slices of pizza topped with fresh olives and tuna and a Diet Coke for five euros. The owner even gave us a sampling of the local desert for free.

We walked outside and sat on the steps of the duomo at Siracusa (yeah, from Syracuse fame) and gobbled it down, enjoying the same view the tourists were paying 15 euros for their pizza-with-a-view in the restaurant across the piazza (not to mention the coperta).

If you do decide to eat a restaurant, and of course you will, because you won't eat better in your life than in Italy, keep an eye out for trattorias and local eateries packed with Italians. Skip the restaurants full of tour groups and search out the family-run restaurants that are frequented by locals.

One of our favorite ways to hunt out restaurants is ask the hotel receptionist where they go to eat when they head out with friends. They might suggest a few touristy joints with views, but press them on the best pizza in town, and they'll typically steer you toward a local place with great ambiance, reasonable prices and fantastic food.

Some restaurants will offer fixed-price menus – called prezzo fisso – that typically include a starter, a main dish, bread, wine or beer and sometimes desert, usually for less than 20 euros. Order all that a la carte and it will almost be double.

Almost every restaurant will have a coperta, a cover change, which is usually between one and two euros per person. No one has been able to effectively explain to me what purpose the coperta serves, other than to stuff the pockets of the owners. Some say it's one way to help pay the waiters, but they're still always chirpy at the end of the meal hoping for a handout from the rich tourists.

I've seen even the most level-headed travelers get cross-eyed when they realize they have to pay an extra 8 euros for the coperta with a party of four on top of the meal price, but as in all things in Italy, read the fine print.

Some restaurants even charge extra for bread on top of the coperta, but I've only seen that once and it's usually a tell-tale sign that it's a tourist, rip-off joint.

Another way to save money is to skip the heavy sell for bottled water and ask for tap water instead. That will save you at least 3 euros per bottle.

Also, ask for vino de casa – house wine – instead of bottled wine. A half-liter of good-quality house red will usually be less than 5 euros while most bottles of Italian reds start north of 10 euros per bottle.

Next time, we'll go through the elaborate ritual of eating Italian-style, from the aperitivo to the digestive – and all the good stuff in between.


Comment on "Italian lessons II: Eating on the run" using the form below