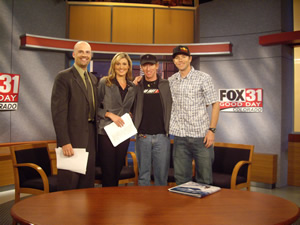 Chris Anthony and big-mountain skiing legend Chris Davenport promoting the state's ski industry on the set of FOX 31 in Denver.
Special to RealVail
Blog Tools
Comments
PermaLink
Mother Nature always eventually brings the goods
Low snow a good test for World Cup and 2013 bid
By Chris Anthony
November 30, 2007 — It's been an exciting last few weeks since my last blog. And while it still hasn't really snowed as much as I/we need it to snow where I/we need it to snow, I'm confident it will come. Mother Nature has a way of balancing things out.


My hope is that this is a test to show how Vail and Beaver Creek can pull off a world-class event against the odds and lack of snow. I'm referring to the ongoing World Cup in Beaver Creek - one of the most prestigious sites on the circuit, with the Birds of Prey downhill course the cornerstone of the weeklong event.


If organizers can pull this off with the lack of early season snow, then it will show that the Vail Valley is more than worthy of hosting another World Championships, which they are in the process of bidding for (2013 to be precise). The action started Thursday, Nov. 29, in Beaver Creek and runs through Sunday, Dec. 2.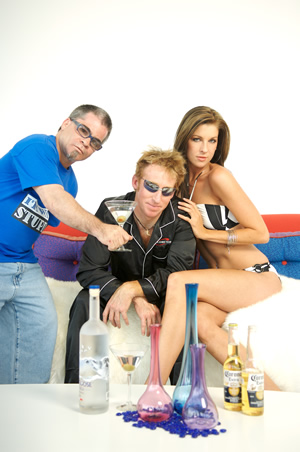 Chris enjoys his usual side bennies during the filming of the most recent Warren Miller flick, "PLAYGROUND".

I'm actually just coming off of the fall Warren Miller Film Tour. Now in its 58th year, Warren Miller Entertainment once again pulled off an amazing film. "PLAYGROUND" premiered in several cities starting in mid-October and is still going strong. I hosted 45 shows over the past month and half, and the audiences, which are like family to me, showed they are more than energetic about the upcoming season.


Go to www.warrenmiller.com for more info on "PLAYGROUND", and if you want to see more photos from the tour, check out my Myspace page at myspace.com/chrisskifilm.


I have also been cruising around speaking at a variety of schools on behalf of the Fifth Grade Passport Program. If you have a fifth-grader in the state of Colorado, he or she is eligible to SKI FOR FREE when they sign up for the Fifth Grade Passport Program. Check out Colorado Ski Country USA's website (www.coloradoski.com) for more information on this program.


Vail Snow Daze, set for Dec. 3-9, celebrates the start of the winter season at Vail with incredible snow, terrain openings and the biggest early season party in North America, featuring a week-long calendar packed with daytime and nighttime events and activities.


The week is highlighted by three nights of entertainment including headliner bands Ziggy Marley on Thursday, Dec. 6, Social Distortion on Friday, Dec. 7 and Ludacris & The Roots, Saturday, Dec. 8. Be sure not to miss the Dummy Gelunde World Championships, in which your favorite "dummy" crashes and burns off the big-air jump at Golden Peak.


After dark, the fun continues with nightly entertainment all around town; bar parties, a fashion show, and Dine Around Vail (discounts at Vail's top restaurants) and more. Visit www.vailsnowdaze.com for more info and tickets.


TEAM VAIL 2007-08 NAMED:


World Cup


Sarah Schleper


Lindsey Kildow Vonn


Julia Littman


Nicholas Kullas


Snowboard


Megan Pischke


Andrew Steward


Rob Bak


Rachel Nelson


Broc Waring


James McCotter


Trefor Davies


Freeski


John Spriggs


Chris Delbosco


Claudia Bouvier


Tyson Bolduc


Junior Martinez


Matt Luczkow


Eric Archer


Tony Seibert


Trevor Hiatt


Dave Lesh


Warren Miller


Chris Anthony


Nordic


Kevin Hochtl


Lani Bruntz


Comment on "Mother Nature always eventually brings the goods" using the form below