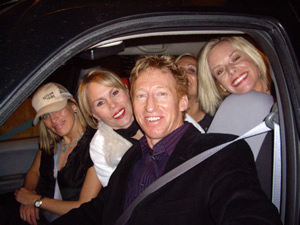 Chris was the designated driver after an evening of cutting loose at the Vail Valley Foundation's Black Diamond Ball.
Photo special to realvail.com
Blog Tools
Comments
PermaLink
A perfect storm of parties, deep snow and good times
By Chris Anthony
December 10, 2007 — Unreal!


Thatís all I can say about what has gone on the last two weeks here in the Vail Valley. It started when I returned from my last stop of the fall Warren Miller film tour. I rolled into town when the World Cup hit Beaver Creek.


This is honestly one of the most entertaining weekends in Beaver Creek and should be put on your calendar for next year. There is nothing quite like seeing the menís Birds of Prey Downhill live - especially when the Americans do well.


Congrats to Steve Nyman, of Provo, Utah, for the silver in the downhill!


The Saturday Night Party of the Stars, as Iíd like to call it, was awesome and took place up at Rockís Modern Grill in the Beaver Creek Lodge. Only because I think those that show up at this one every year know how to throw down. But this year the party was put on by Gravity Sports and sponsored by Head and Go Fast.


As it was going off inside, outside it started snowing, which led to an outstanding week of skiing for Vail and Beaver Creek. WINTER IS HERE! And Sunday was the most important day in Beaver Creek: when they open Grouse Mountain.


When this happens, drop everything, as Grouse only looks like this once a season. No tracks, no bumps, and only a few people there to track it up. It is one of my most favorite of ski days. And within two hours youíll be fried skiing nonstop off the high-speed quad.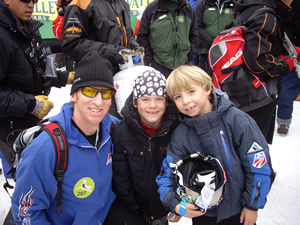 Chris hangs with future racers at the Birds of Prey World Cup at Beaver Creek.

This past week I was also a guest of the Black Diamond Ball at the Vail Cascade Resort & Spa. This event is very important to the community and is presented by the Vail Valley Foundation. If you are interested in the Vail Valley Foundation and the many functions they host, I encourage you to look them up and get involved. The VVF is a major contributor to our community and organizes numerous events around the valley.


As the World Cup ended, the Park Hyatt Technique Weeks began in Beaver Creek. I host two of the four weeks, while former Olympic gold medalist Debbie Armstrong is hosting the other two. This is a fun program presented by the Park Hyatt and offered to those that want to take their skiing to another level while also enjoying the luxuries of the Park Hyatt.


For more info, go to beavercreek.hyatt.com


Closing night of the first of four Park Hyatt Technique Weeks I had an amazing meal at Spendido in The Chateau at Beaver Creek. I just have to throw this out there because I was completely impressed by the experience at this restaurant.


As the Technique Week campers left, the smallworld.com group arrived with a massive storm and in time for the Vail Snow Daze event where we all went to listen to Ludacris and the Roots. The group, mostly out of New York, had their first Vail Valley experience. And from what I can tell they had a blast skiing, enjoying the Park Hyatt Spa, partying and some very good meals. Plus they entertain the hell out of me with their good spirit. I hope to see them back in the near future.


Until next time, cheers!


Comment on "A perfect storm of parties, deep snow and good times" using the form below