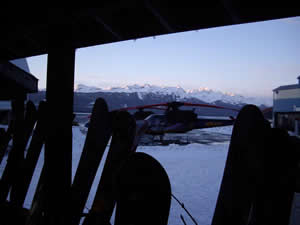 Points North's three helicopters sit right by the water next to the Orca Lodge, ready to whisk eagler heli-skiers into the zone in a matter of minutes.
By Chris Anthony
Blog Tools
Comments
PermaLink
18 years of steep and deep, Alaska-style
The more things change in Cordova, the more they stay the same
By Chris Anthony
March 14, 2008 — I just flew back up to Alaska for the 18th year in a row. Eighteen years Ö man, time flies by. I canít believe Iíve been making this trip for so long.


Some things have changed dramatically, while others have stayed exactly the same. The Anchorage airport, for example, has tripled in size, while some of the glaciers Iíve flown over for years have shrunken.


My tolerance for travel headaches has decreased as well, as I find myself more high maintenance than I was in the past when it comes to accommodations and where I sit on the plane. I need to get over that, because my accommodations as a guide are usually pretty rough.


I remember the first year I arrived in Alaska. I was headed to Valdez, one of the first ones to ever show up there as a skier. It was raw, and none of us really had a clue what we were getting into.

The recent movie ďSTEEPĒ does a pretty good job of documenting a few of the stories from the early Valdez heli-skiing years. It left out more than it documented, which is hard to watch since I witnessed those first years, but no matter, because from those early days a new world of skiing was born.


And, as I walk through the new Anchorage airport on my way to catch a short flight to Cordova, Iím reminded just how small this community of skiers is. A voice calls out my name. Itís a friend and fellow guide at Points North Heli Skiing, Walker Milhoan. Iím surprised to see him since the last time I talked to Walker he said he wasnít going to be heading up this season. But there he is.


Our friend Kevin Quinn, the owner of Points North, where Iíve been holding my Heli Camps (www.chrisanthony.com ) the past several years (prior to Cordova I did them in Girdwood, Alaska, at Chugach Powder Guides) called Walker up from the lower 48 to fill the shoes of another guide that who hurt himself before ever making it to Alaska. Iím happy to see him, and nothing more really needs to be said. We both know the routine of what the next couple of weeks holds in store for us.


Eighteen years ago the plane I flew from Anchorage to the satellite town was jalopy compared to this luxury liner headed to Cordova. I still remember that flight. Three attempted and very scary landings before we headed back to Anchorage and gave it another shot the next day. I eventually made it.


The Cordova airport is small. Very small. I love it. Right out the front door of the airport is a mildew-smelling van left for me with the keys in the ignition. I flip the switch, the engine turns over, and like all the years before, all the warning lights come on and never go off. Perfect.


I walk back into baggage claim. Walker has pulled our bags and points out that we have a cell signal. Now thatís new, but it wonít last much beyond the airport.


The drive across the wetlands toward the town of Cordova and eventually base camp, surrounded by the Chugach Range, is amazing. And it reminds me how incredibly big Alaska is and how small I am.


After 10 miles we reach the small fishing town of Cordova, where one of the liquor stores has acquired a very new and modern looking sign with a new digital screen. But the sign for the bar next door still hangs upside down and has a burnt-out light. Some things never change.


Walker and I stop at the local AC to pick up bedding, as we know the guide quarters at base camp can be pretty sketchy. And since weíre considered late arrivers, as well as short-timers, we arenít going to get the pick of accommodations.


Every year I arrive hoping a building they started four years ago is done and the guides would be housed in it instead of the rickety old drafty building we have stayed in for the past few years. Nope. Not to be.


But our old building - the one right next to the vacant buildings where a few hundred Filipino cannery workers died 50 some years ago of an epidemic - has at least been painted on the outside. I think the fresh coat of paint is holding it together. This will be our home and the location of our guide meetings the next couple of week. Itís like camping, inside.


Outside are our three beautiful helicopters, perfectly maintained and covered for the night. The sight of those and the mountains in the background reminds me why I have chosen to come back year after year.


Jessica Quinn greets Walker and me. She takes us into the guideís quarters, wishes us good luck in finding a place to settle in, tells us a few enlightening stories about what has taken place over the past few days and weeks, then tells us dinner is at 7.


Inside, some familiar faces and some new ones greet us. One of those faces I unburied from an avalanche two years ago. The incident changed my entire outlook on life and how I approach the mountains. We talk about it. He hugs me. I smile. We crack a beer, and I move on to find a bed I can settle into that hasnít been made a home of by one of the token dogs wandering base camp.


Outside the sun is setting, the clouds are blowing off and the northern lights have greeted me for my first night back. Heli Camp has begun.




3 Comments on "18 years of steep and deep, Alaska-style"