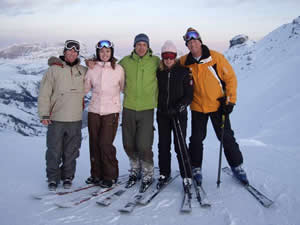 The four-pass tour near Cortina, Italy, provides endless skiing, great restaurants and the opportunity at amazing off-piste powder.
Special to realvail.com
Blog Tools
Comments
PermaLink
Cortina Day 4: ultimate interconnect tour and an American win
Vail's Vonn rewards U.S. race fans in Italy with 11th career victory
By Chris Anthony
January 19, 2008 — Friday we woke up to blue skies, and for some in the group this was mind-blowing. Thus far they had not been able see what we were surrounded by since this recent storm had socked in the region with fog for the entire trip so far. Even the locals were impressed. It is rare to see this much snow on the ground in the town of Cortina or on the surrounding mountains.


Due to the outstanding weather and the amazing snow conditions we decided to do the four pass tour. As we were deciding to do the tour, the volunteers and World Cup committee were able to prep the downhill course, so the women could get a training run off.


Imagine being able to ski from sunrise to sunset, never skiing on the same trail and covering more than 50 miles of terrain. Or to put it more vividly, being able to ski from Keystone to Breckenridge to Copper Mountain over to Vail and onto Beaver Creek then back to the beginning all by linked by lifts and ski runs.


Now imagine most of the terrain being above tree line in an alpine setting surrounded by groomed on-piste runs separated by fields of cold powder that have been untouched since the Italians really do not enjoy skiing off piste that much. This is what we had before us today. It was amazing! Not only did we have this incredible journey, but it was also done under perfectly clear skies.

Halfway through the Dolomite Super Pass journey we stopped at one of the most unique of the many individually-owned mountain restaurants. This one was located on Passo Gardena Grodner Joch. Like most eating establishments they have been run by families that pass the business from one generation to the next.


This one in particular was so amazing because everything in the restaurant had been personalized. The same detail was expressed in the food itself. The name of this special place, should you ever find yourself in this part of the Italian Dolomites, is Jimmy Hutte. The views, the service and the food were unreal.


Our journey became a little rushed when we realized how far we had to go before the lifts shut down. We were about four valleys away from where we needed to be. With some quick maneuvering and a little luck we made it over a couple more passes utilizing chairs and runs.


We skied into the village and ski area of Arabba in the dark, then caught a cab to drive us to the top up Passo Valparola, where we had left a car. Then we rushed back into the town of Cortina still 15 miles away and freshened up before driving towards the ski area of Cristallo. It was here that we caught snowmobiles to the top of the resort so we could eat at Rifugio Capanna Tondi.


We followed this up with a midnight ski down under the nearly full moon.


Day 5: race day


Exhausted, we rose to get dressed and catch a tram up Cortina where we skied over to the top quarter of the womenís World Cup downhill course. On the way there I told the group I thought Vailís Lindsey Vonn was going to win.


Sitting up on a portion of the course that presented some of the top speeds and one of the bigger jumps, we watched as Americaís Julia Mancuso came into view and jumped out of view to take the lead. Then came Lindsey. She not only crushed that time but she shattered the entire field.


It was an American win with Julia finishing a respectable 7th place. We could of not have asked for a better showing from the U.S. women. They rewarded us not only with a victory but we had been rewarded with three solid days of powder skiing. I mean, if it wasnít for them competing,
I would not be here with two of their supporters.


Congrats Lindsey!






Comment on "Cortina Day 4: ultimate interconnect tour and an American win" using the form below