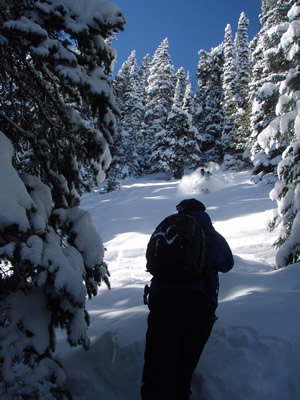 Chris plays photog, grabbing this sick shot of his buddy, Richie, grabbing some face shots in Beaver Creek's Stone Creek Chutes over the weekend.
Special to realvail.com
Blog Tools
Comments
PermaLink
Programs, powder abound in hectic holiday season
Wishing every one a steep, deep and safe new year
By Chris Anthony
December 25, 2007 — Merry Christmas and Happy New Year!


I'm happy to say that the skiing has been amazing here in the Vail Valley. It's been snowing a little bit every day, and the temperatures have been staying low to keep the snow we have in the perfect state of crystallization. All in all, this went from possibly being one of the worst starts of the season to one of the best. It is amazing how things can change.


I want to thank all my strategic partners for a great 2007! You know who you are. It's been nice to be home and working on both Beaver Creek and Vail mountains before I hit the road again.


I was even able to sneak a trip over to Aspen Highlands this past week and hike the bowl with one of my friends and Heli Camp graduates, Kent Hootman. Highlands was in excellent shape and surprisingly empty. So Kent and I took advantage of it and accumulated as much vertical as possible until I lost a ski.


Yep, it came right off my foot only to be found an hour later after a lot off digging and a bit of luck. I'm still waiting for that day that someone comes up with a ski locater for these big powder days. It happens so much it would be worth the investment.

In fact, a day before another individual I was skiing with lost his in Vail's backcountry. A loss that not only wrecked his day but made for a long journey out to safety. Which brings up a very good point. Always be confident that you can get out of where you are on one ski.


The highlight of this week, besides some longtime friends arriving in town for the ninth year in a row had to be getting the chance to go and shoot some video plus still photos in the Beaver Creek's Stone Creek Chutes. Check this footage out on www.beavercreek.com. The terrain, which can be found through an access gate, is some of the best extreme mini-golf in the Valley. But it should not be taken lightly.


Before I leave for Italy to host one of my camps with former Italian national champion Marco Tonazzi, I have a couple of other programs coming up. Check them out, or better yet, sign up for one. If not this year, then next. You can find all my programs on my website at www.chrisanthony.com.


Coming soon:


Dec. 28-30: Aspen Highlands Freeski Camp with Chris Davenport and Chris Anthony: This new camp has been in the works for a couple years and Chris and I are proud to finally offer three days of steep skiing, instruction, and guiding at one of North America's premier "big mountain" resorts. This camp is limited to 10 skiers only and is for expert skiers looking to take their skiing to the next level. The three-day camp includes lift tickets and one on-mountain lunch at Cloud Nine Restaurant. Cost: $1,125. Contact Chris Davenport for more info or reservations or go to www.steepskiing.com or www.chrisanthony.com.


Week Three: Jan. 6-11


Jan. 6 – 11: Park Hyatt Resort and Spa along with Chris Anthony and the Beaver Creek Ski School present Technique Weeks.


Package Includes


• Five night deluxe accommodations with full breakfast daily


• Four days of skiing and personalized instruction with Deb Armstrong or Chris Anthony and a hand-selected teaching team from Vail/Beaver Creek ski school


• Four day lift tickets interchangeable for Vail and Beaver Creek


• Nightly amenity package complete with signature Technique Weeks Descente gear


• Complete skiing evaluation with the use of video analysis


• Take-home ski adventure DVD to highlight your time at Technique Weeks


• $50 credit to the newly renovated Allegria Spa


• Welcome reception dinner


• Après ski events/parties and three dinners


• Evening seminar on nutritional and ski conditioning


For info or reservations, call (970) 827-6634, go to www.parkhyattbeavercreek.com or email Jen Rankin at jrankin@hyatt.com.


Until next time, cheers!



Comment on "Programs, powder abound in hectic holiday season" using the form below