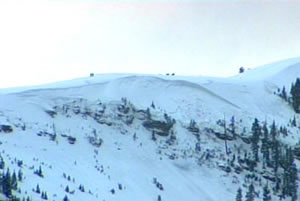 This slide in the East Vail Chutes in the backcountry east of Vail Friday killed a 27-year-old local skier named Jesse Brigham.
Special to realvail.com
Blog Tools
Comments
PermaLink
Avalanche death a time for reflection, study
Specs in the realm of Mother Natureís Power
By Chris Anthony
January 5, 2008 — Itís Friday, Jan. 4, and Iím sitting at my computer studying photos of a fatal avalanche that took place in our neighborhood backcountry earlier in the day. Itís pretty scary because I spend a significant amount of time out there. So Iím studying to learn.


What went wrong, what went right, and what is predictable about what is not predictable? The fact of the matter is there are so much data and so many variables that you canít ever really get it all or completely predict what is going to happen. So you try and gather as much as you can and work your way backwards from that. Because when things go wrong out there, they really go wrong.


First the facts: a 27-year-old skier named Jesse Brigham, who worked at Vail Resortsí new Arrabelle at Vail Square complex, was caught in a slide in the popular backcountry area adjacent to Vail Mountain thatís known as the East Vail Chutes. He was wearing a shovel, beacon and probe and skiing with two friends, who pulled him out after 10 to 20 minutes under the snow and tried unsuccessfully to revive him.

Those are the facts, but letís just look at a bit of the data and think about it. We had significant snowfall, very cold conditions for several days, several wind events and then finally dry, cold conditions with a quick warming on the leeward side of a slope with a cornice at the top. All of this added up to some fairly unstable conditions, although the Colorado Avalanche Information Center was reporting only moderate avalanche danger with areas of considerable danger.


Yet the skiing around that area can be amazing. So amazing that we tend to overlook the signs. We expose ourselves for a thrill. A really fun thrill that can come with consequences.


So know this and realize you can only expose yourself to those consequences for as little time as possible. More importantly, only expose one person at a time to the consequences. The fact of the matter is that you are not going to eliminate the consequences, so work with them if you are going for this thrill.


The best way to do this is to be prepared for the worst-case scenario. Just recently I was asked to take a friend into the backcountry. I was hesitant about it. I was not sure of his capabilities and he was not sure of mine. But the fact of the matter is that once out there you are going to depend on one another to possibly save each otherís lives. So it might be a good idea to learn who that person is that you will be traveling with.


When I decided to say yes because he seemed skilled enough, he showed up with a friend. So now we had three. Two people I did not know. The concept made me uncomfortable. In some cases, I look at the other individuals and think, if anything should go wrong, can they save me? Or if something should go wrong for them, can I save them? More importantly, can they save themselves to eliminate exposing their ski partners from getting in harmís way?


Can you ski out of the backcountry on one ski if you should have mechanical failure or lose a ski? Or can I carry them out (are they light enough)? Sounds ridiculous, right? No Ö it is reality. Think about the worst possible thing that can happen in the next several hours that you are exposed, and ask yourself if you can deal with it.


There was a point that two of us were exposed in a slide area digging for a lost ski with no one above us to come save us should something go wrong. I broke every one of my rules to deal with this.


Donít break your rules. They are hopefully based on common sense. And, to tell you the truth, that is the best tool we have working for us out there. So listen to it and leave your ego checked at the door, as that is probably the most dangerous thing out there for us: our own egos. Pride is one of the seven deadly sins for a significant reason.


But one blurry thing that has gone on lately is the definition of backcountry. It is where Mother Nature is free and wild. She snaps her fingers and we are just specs in the realm of her power. This brings up another point: do not ever underestimate her power. It is beyond anything predictable.


So if you are going to go and play with her, then try to only expose one person at a time when she decides to flex her muscles.


Until next time, cheers.


Comment on "Avalanche death a time for reflection, study" using the form below