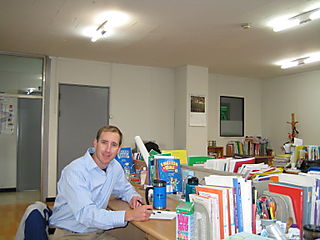 Blog Tools
Comments
PermaLink
This Bud's for you, Mr. English teaching guy
By John Buckley
November 20, 2007 — I've been in Korea for just over a month now. So far, I have shared stories with you about the incredible vibrating work-out belts that are whipping butts into shape over here (or not, I really have no idea what they do), produced video of a park that sang to me like an angel coaxing me to feed more ducks and also theorized that Rodney Dangerfield has set up post in Korea to host a series of "Welcome to the Afterlife" dance parties.


Though these are my stories and I'm sticking to them, they by no means encapsulate my entire time in Korea. I do, in fact, have another raison d'ętre over here beyond searching out Korea's quirky little foibles. I am actually an English teacher, which is to say that I am a native English speaker in possession of a college degree; the adequate credentials for landing a job here. By this rationale, I'm now also considering myself a meteorologist. I've seen it rain and I've seen it snow. I've felt the sun on my face and the wind in my hair. And I have a college degree. I predict a heavy deluge of smartass with continuing flurries of sarcasm for the remainder of this blog.


For weeks now, I've been coyly dodging the question, "How is the teaching going?" Truth be told, it is a difficult question to answer, because I do not have one answer. I have four classes a day and they are all extremely different. I have some classes that I thoroughly enjoy teaching; classes where the students learn and I actually do a pretty good job of teaching. And then I have classes where I am just amazed that nobody got hurt, sometimes amazed it wasn't at my own hands. Now, I'm not serious about wanting to harm small children, but I do find myself wondering "how can I simultaneously be a terrific teacher and a terrible teacher, all in the span of two hours separated by a 10-minute break?" Hmmm. . .maybe I should fall back on my meteorology background. There seems to be less guesswork.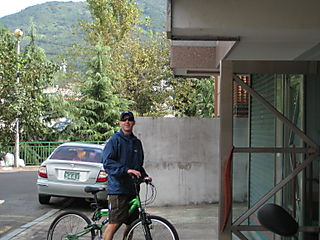 The author arrives at school after deftly maneuvering through the streets of Daegu, Korea, his new hoome town.

Let's take a look at today shall we?


9:30 a.m. - Woke up thankful for another 10 ˝ hours of sleep. It's Monday, better check the NFL scores that took place while I was sleeping. Super, my fantasy football team is playing like a team whose manager packed up and moved to Asia.


10:15 a.m. - I rode my bike to the gym and then ate some apples with the ladies on the vibrating belts before going to work on the weights. Is there a vet around here, cause these pythons are SICK! (Mental shout out to Reid Greibling in Vail).


11:30 a.m. - Headed home. Stopped off at the corner market to buy some toilet paper. For some reason, in Korea they only seem to sell toilet paper in 24 packs. I mentally did the math: I've used one roll in a month, just bought 24 rolls and am planning on being here for another 11 months. Note to self, I better step up my wacky Korean food intake.


12-2:30 p.m. - Drank some coffee, responded to some emails. Made some tuna fish sandwiches (see previous note to self) and then took a shower. No, I didn't eat the sandwiches in the shower, but it would have been entirely possible using the hand-held mechanism that controls what gets wet (not much, including me).


3:00 p.m. - Rode my bike to school dodging innumerable moving objects on the city sidewalks. Seriously, if a giant monkey appeared out of nowhere and started rolling barrels at me, it would not faze me at this point.


3:30-4:40 p.m. - Arrived at school and read through the notes I write down at the end of each class. Crap, today is Monday. Yep, somebody's got a case of the Monday's. No, not because it's the first day of the workweek, but because I know that two of today's classes would be better served by a referee than a teacher. On the upside, my last class gives me something to look forward to at the end of the day.


4:40 p.m. - I taught my E4 class. This is a higher level (but young) class. These guys get a little rowdy, but come right back to me once I need them to focus. I get by without incident. I can't say these guys left class quoting Yeats, and if they did, it certainly wasn't because of anything I said. I'd like to think that they did learn a little something about Ranger Day and how he saved a baby eagle.


5:50 p.m. - Deep breath. Time for my E3 class filled with 16 pre-pubescent, seemingly Red Bull-infused poster children for ADD. During my first week of non-trained teaching, I assumed dismissing a little horseplay as kids being kids would make me the fun, cool teacher. Fast-forward one month and I now realize this was the equivalent of chumming a school of piranhas and expecting them to go vegetarian at a later command. Needless to say, I've spent the last several weeks trying to restore some order and authority in this classroom. Today, I decided the piranhas would be switching to a kelp diet. I am no longer the "fun, cool teacher", but have come to realize that was never in my job description. And I used to be such a nice guy.


7:00 p.m. - The good old one-two punch. I head to my C1 class and struggle to understand why this class (who are in theory at the same level as my other C1 classes on different days) look at me like I'm trying to teach them nuclear physics in an Algebra class. And those are the students who actually choose to look at me. I find it hard to blame these kids for their apathy, as it is 7 p.m. and they've been at school since 8 a.m. I could go into more detail on the issues of this class, but I've run out of fun analogies.


7:45 p.m. - Ah, my Monday vacation! Though Monday's are tough for the above reasons, I can always look forward to coming to this C2 class. Every student in the class is quite likeable, participates though the whole class and jokes around with me as we get down to the business of learning English. Now this is what I thought teaching would be like.


8:30 p.m. - Whew, rough day. Four hours of work and I'm spent! Time to pedal myself home for a Korean-brewed Budweiser. That's if I manage to dodge all of the darkened figures that spring out of alleyways, cartwheel out of buses and stumble out of restaurants. Seriously, I think ninjas are trying to kill me. You think I'm kidding, but I'm not.


Addendum: I've been watching a lot of Dr. Phil lately on AFN (Armed Forces Network) and he has taught me to never go to bed mad. So I'm posting this on Tuesday. Incidentally, I had a great day at school today.



Comment on "This Bud's for you, Mr. English teaching guy" using the form below