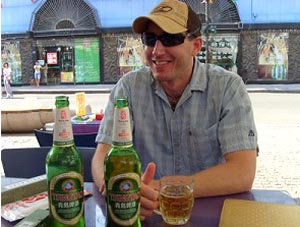 Our trip to China may not have involved the typical cultural sites, but what I saw will likely be burned into my memory forever.
Blog Tools
Comments
PermaLink
Beer and brawls before Beijing - a Vailite's Olympic stories from China's underground
By John Buckley
August 25, 2008 — As I sit here watching the Beijing Olympics closing ceremonies, it occurs to me that it's high time to get my blog out on the trip to China I took the week before the Olympics even started. If procrastination were an Olympic sport, I sir, would be a Phelps-like icon.

For those of you who have been following my blog for the last couple years, you may remember entries about wild boar hunting in Borneo, climbing the tallest mountain in South East Asia and traipsing off into the unknown with a Burmese monk in Myanmar. So you might think that what follows might be an interesting account of backpacking along the Great Wall, studying kung fu with some Shaolin Monks or getting back to nature in the scenic Tiger Leaping Gorge. Well, I've got news for you, I did none of that.

In fact, on this trip to China, I did essentially two things: got drunk and laid on the beach; not necessarily in that order. But along the way, some pretty hilarious things took place, so here you go.

This trip to China took place during our summer vacation. Though children back in the States enjoy a three month summer vacation, the children in Korea get to enjoy a grand total of three days off from their rigorous hakwan schedule in the summer. So short on options, but wanting to get out of Korea for a few days, my English friend Mark and I decided on Qingdao, China. Qingdao is only a short flight from Seoul, is the site of the Olympic sailing events and is also the city that brews Tsingtao Beer (pronounced the same as Qingdao, yet inexplicably spelled with a T). When Mark proposed this plan to me, he had me at, "Tsingtao Brewery."

Our first few hours in Qingdao got off to an ominous start. As we took an exploratory walk down towards the beach, we quickly became aware that we were being stared at by nearly every passerby. Now, living in Korea, we've become quite accustomed to being stared at by the locals. But in Korea, the stares almost always seem to be an interested and friendly stare. The stares we were getting during our first few hours in China bordered on intimidating. We couldn't tell for sure, but we were pretty sure we were on the verge of getting our asses kicked. The stare that worried me the most and got us moving the quickest was from one rather tough looking dude who I noticed stare at us, who then tapped his buddy on the shoulder before pointing directly at us. For a country about to host the entire world, we joked that they better get used to the sight of these strange looking creatures. Maybe we just weren't wearing our Right Guard that day, because luckily, all the people we met after that first walk turned out to be amazing (though we did continue to feel a bit like a circus act, with strangers stopping us to take our pictures with them).

Early on in our trip we discovered a place literally called "Beer Street". Naturally, this jumped to the top of our list of cultural sites we had to see in Qingdao. Unfortunately, due to this discovery, we really saw very little else during our stay in China. One restaurant/bar in particular became our second home during our stay. We found it on the first night, befriended the rather large staff and soon became the Norm and Cliff (TV show Cheers, for my International readers) to the Chinese Sam Malone and his bar of Asian Diane's and Woody's. Over the next couple days, we became fixtures at this place and for some unknown reason developed the tendancy to shout a Fonzie-eque "Heeeyyy!" everytime we entered.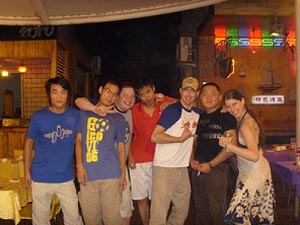 Our new best friends in China

On our first night there, we helped one of the employees edit the English menu he'd been working on. Of the many items on the menu that we looked over, we got a chuckle out of donkey being on the menu. So naturally, on our second night (and subsequently on the third), we decided we had to give it a go. Little known fact, donkey is actually quite delicious! Then again, it was covered with so much spicy sauce that it tasted identical to the lamb and deer we also ordered.

The other great thing about this place was that it gave us our own special Olympic preview of China's strength and shirtless determination to sporting excellence. Every night we found ourselves engrossed in shirtless competitions and feats of strength like arm-wrestling and push-up contests. Sadly, we were no match. And while I'm on the subject, I should note that Chinese men have a strange obsession with going shirtless. Even when they're wearing their shirts, they seem to feel the need to air out their belly by pulling their shirt up below their armpits. It sounds strange, but after a few days, we decided 'what the hell' and joined right in. I have to say, hanging the belly out may look bad, but it feels so good!


On our second night, after eating donkey and drinking at this bar, we asked our new friends if they knew of anywhere to go dancing. So when the bar closed, we packed into a few cars and headed out on the town. Unfortunately, the dance club they took us to was closing down for the night. After being in Korea, a land where the bars never close, China surprised us with a very early closing bar scene. Unfazed, our new friends took us to the Chinese version of a Norae Bang (karaoke room). Soon, we were joined by nearly the rest of the restaurant's male staff, including the owner.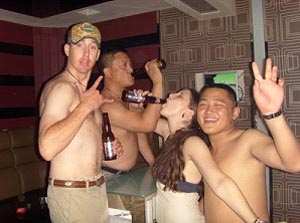 Courtney from Canada and Gillian from Scotland were the only two ladies in a room filled with sweaty, shirtless men.

Of course, this night quickly erupted into debauchery with us joining in on the shirtless trend while belting out Western songs as our new buddies jammed out to the Chinese hits. It may be true that we didn't visit a single museum or palace in China, but this night will be burned into my memory for far longer than any long-winded scenic tour.

The one "cultural" outing we did make while in China was our tour of the Tsingtao Brewery. After walking through a museum of the history of the brewery, we ended up in a beer sampling area. This wouldn't really be worth noting (we did drink enough Tsingtao to make China re-think Communism, after all), except for the fact that we were then joined by a rather large group of Chinese tourists, many of whom had children with them. Still not really worth noting, until I mention that all of these children joined in on the beer sampling. I'm telling you, if you haven't seen an eight-year old wandering around with a beer in one hand and a bag of nuts in the other, well you just haven't lived my friend. I know it's disturbing, but quite entertaining, I assure you. In fact, the only thing that could have provided me with bigger sense of shocked amusement would have been if a monkey knife-fight had broken out over a racist comment about proboscis monkeys being less smelly than macaques.


Later on, when they gave us a pitcher of beer to enjoy at the end of the tour, we were joined by a father and son at our table. The father looked proudly on as his small child gave a beer cheers to a Western dude, me. Capping off this strange foray into different cultural norms, I watched as a young boy slammed his beer down to empty and then as his mother refilled his glass from hers. To quote Homer Simpson, "To alcohol, the cause of, and solution to, all of life's little problems!" Get used to that phrase kid, I think you're gonna need it later on in life.

Speaking of drinking in China (wait, I think I've been doing that during this entire blog), the Chinese we met seemed to only know one way to drink. . .down in one! Now, I'm not one to avoid a cheeky pint or two, but I'm not accustomed to having to chug every beer that is offered to me. I can't tell you how many people offered us a beer and a cheers, only to expect us to slam it down with them. One or two of these is fine, but this followed us nearly everywhere we went. No wonder the trip was a blur!

The crowning evidence of this came during our visit to an Olympic Village party site. We just kind of happened upon this place and decided to stick around because there was beer a flow'in and hot models walking a runway. After settling in with a couple beers we really took notice of the fact that these Chinese people were really packing down the beers. They even had several "beer chugging" contests up on stage, where contestants were given 1.5 liter pitchers half-full and were expected to chug their contents as quickly as possible. This seemed impressive, until the third round where a robust Chinese guy insisted that they chug full 1.5 liter pitchers. Thinking no way this was possible, we watched in amazement as the brazen lad chugged the pitcher as quickly as you could pour it on the ground.

As this was happening, the atmosphere was clearly getting quite raucous. As a Chinese pop singer sang to the crowd with people dancing on the tables and chugging beers, Mark told me he had a feeling something bad was about to go down.

I think his exact words were, "I have a feeling something illegal is about to happen." Not two minutes later, a fight broke out in the back of the crowd. The next thing we knew, pockets of fighting began erupting all around the crowd. Beer bottles were being broken on heads, people were bleeding and women were jumping in the middle of it all trying to pull their husbands/boyfriends away, some taking swings themselves. In America, this would be broken up by the cops in about five minutes, but the police here seemed to just let it all go on. They did end the show and turned off the lights, but the fighting continued for probably an hour. During this whole thing, we didn't move. We just sat their drinking our pints talking to a random drunk stranger who had plunked himself down at our table. At one point, a kind waiter came over and told us not to leave as it was quote, un-quote, "maybe a little dangerous for us to leave". Point taken, we sat and just watched the excitement wondering if this was all just training for the Olympic party scene a week later.

All-in-all, I know I've had more culturally enlightening trips in the past, but this one proved to be among the most entertaining. As an American, we and the Chinese certainly have our differences, but I will concede this: in the world of drunken, sweaty, shirtless arm-wrestling, China is clearly the best! Much respect to China, as the Chinese people were incredibly friendly, accommodating and hilarious.

P. S. – Free Tibet!



Comment on "Beer and brawls before Beijing - a Vailite's Olympic stories from China's underground" using the form below