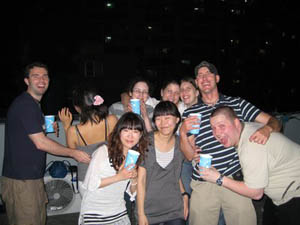 Blog Tools
Comments
PermaLink
Vail travel: being a wayguk (foreigner) is way fun
By John Buckley
July 21, 2008 — There's just something about being a "foreigner" that suits me. I realize that seems like a strange title to give oneself, but that's what the Koreans call us, and frankly I've come to embrace it. Korea is one of the most homogenous countries in the world, so indeed, being one of a handful of white faces strolling around in an Asian city of a couple million makes a guy stand out just a tad. We, a motley crew of English teachers from around the English-speaking world, are unavoidably foreign, and though I have been here eight months now, everyday seems to bring a new reminder of this fact.

This point was driven home to me even before I stepped foot on Korean soil. While making arrangements via email with the director of my school to meet her at the airport, I naively asked, "Is there a specific place in the airport I should plan to meet you?" Her response came in a single line, "Don't worry, you'll be the only white guy coming out of the airport, I'll see you." – Gloria

Not yet accustomed to this foreign status, I stumbled out of 14-hour flight groggy and worried that I might be spending my first jet-lagged hours in Korea sitting on a street corner yelling the single name I knew in Korea . . . Gloria, help me! Adding to my anxiety was the fact that upon exiting the baggage claim, I noticed that there were in fact, two other foreigners walking nearby. However, one looked like a Texas oilman wearing a 10-gallon hat and a cheap suit (I felt pretty confident Gloria wouldn't think that was me) and the other was a muscle-bound soldier-looking type. Now, I do photograph extremely well (I had earlier emailed a single image of myself looking kind of buff, if I do say so myself), but I was pretty sure Gloria wouldn't mistake me for this guy either.

Although her math was slightly off, true to her world, I exited the baggage claim suddenly awash in only Asian faces and indeed saw a woman I soon learned to be Gloria, walking immediately in my direction.
Since that first night of experiencing life as a foreigner, I've come to appreciate the daily quirks that come with this title. These are just a few of my favorites, though I'm sure I could come up with many more:

"Hello, how are you? I'm fine thanks, and you?" – No matter where I go in my daily routine, I am greeted with this phrase by no less than five separate children in any given 30 minute span. Though I do feel the urge to teach them a slightly varied list of other greetings (maybe something like: how's it hang' in bro? What up homey? Or even a more honest; how are you? I'm freaking terrible man; my parents make me go to school like 80 hours a week! And you?), I none-the-less enjoy these exuberant exchanges that take place everywhere I go. Though it's sometimes difficult to respond to each and every one of these encounters as I whiz by on my bike on my way to school, I get a kick out of the giggles and excited mumblings when I do respond, so unlike some of the other more seasoned (i.e. grumpy) foreigners, I always try to give them a shout out.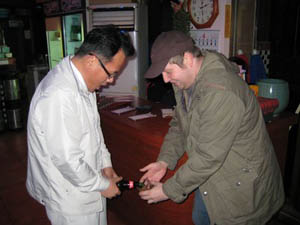 The "round Bruce Willis" conducting late night international relations. You can't always trust a mystery liquor poured from a Budweiser bottle, then filtered through a hot chili at crotch level of a Korean man. This stuff tasted like spicy lighter fluid, but our new friend was quite insistent on showing us good hospitality.

You get to be 5-years old again (take that self-reliance!)– Raise your hand if you thought being a five-year old was the greatest thing on Earth? If your hand isn't up, get back to work you titan of industry. When you were five, people went out of their way to do things for you; they kindly overlooked your foolish mistakes and they let you take a lot of naps. Well that's a lot like what being a foreigner in Korea feels like.

As one example, at many of the restaurants in Korea you get to cook your own meat right at your table. They either fire up gas burners under a Teflon plate, or bring a bucket of smoldering wood chunks and place them under a grate in the center of your table. It seems like this should be easy enough to manage on your own, but for some reason, every time we eat at one of these places the owner ends up hovering over the table turning the meat, cutting it up with scissors and then placing it in a side dish in front of us. What service you might think! Yeah, that's what I thought the first couple times this happened.

Then I began to look around and noticed that this particular service was not on offer for all of the Koreans in these restaurants. So I've since deduced that something we're doing is either not cooking the meat to their standards, or perhaps more likely, burning the crap out of their hard to clean grill pieces. Whatever the case, we generally get our own little sous chef every time we eat at one of these places. I'm still waiting for the moment where one of these proprietors will pick up a piece of meat with some chopsticks and perform the "airplane" trick to get me to eat it. That would truly be the coup de grace in the life of an incompetent foreigner.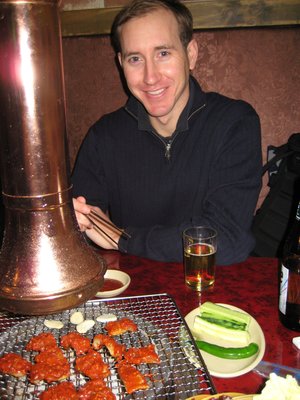 One of the many Korean barbeque restaurants. Here comes the airplane. . .

As another example, the bike that I pedal around here in Korea had the pedal break off a couple months ago. Though it would have probably been an easy fix at a local bike shop, laziness had gotten the better of me and I hadn't taken it in to get fixed. I was just making due pedaling around with a peg sticking out from under my foot. Then one night, not long ago, I was in a local bakery near my school. The owner, who seems to have taken a liking to me, followed me outside as I mounted my bike after a bread purchase. He began pointing at the missing pedal and uttered some words in Korean that I obviously couldn't understand. He then led me around the corner to a stairwell where an old bike was parked in the corner. He opened up a little closet and came out with a pair of pliers. Not really sure what the guy was up to, he then proceeded to pull and twist on the pedal of the old bike. Not knowing any words to inquire about what he was up to, I just watched as he pulled the pedal off of this bike and then as he screwed it onto my bike. I'm really not sure if this bike actually belonged to this guy or if he was just willing to pull off a small misdemeanor as a favor to his new foreign friend. Whatever the case, I've been biking around with a fully functioning bike pedal again and that guy sees 2 bucks from me couple times a week for bread.

The other beauty of reliving my kindergarten years is the naps! My work schedule consists of less than 4 hours of work from 4:40 to 8:30 pm (with four ten minute breaks); so let's just say I'm well rested. Unfortunately I don't get to color as much as I'd like to.

On a scale of 1-10, you automatically jump up at least 2 points – Let me tell you, if you're ever in need of an ego boost as a pale-skinned, blue-eyed Westerner - well, head to Korea! I may not be the best looking guy west of the Mississippi back home, but when you're told on a daily basis (albeit, mostly by 12 year olds) how handsome you are, damn it, you start to believe the hype. You might also be ready to head to Hollywood upon your return to the States as I often get compared to the likes of Kevin Costner, Owen Wilson and Nick Cage. Even my robust English friend Mark who, to put it nicely, is rather big-boned gets compared to a "round Bruce Willis". Now, I realize that these movie stars are probably their only frame of reference, but it's still nice to hear every once in a while. My only question is whether they think I look like a cool Bull Durham Kevin Costner or a lame Water World Kevin Costner.

On the downside, through language difficulties and different cultural norms, Koreans are also very quick to point out any flaws you might have. Just as often as I am told I am handsome and look like a movie star, I also get told that I have a wrinkly forehead, gray hairs and a big nose. At 32, my age has been guessed at anywhere from 22 to 65. It can literally be a roller coaster of emotions from minute-to-minute over here.

Cut the small talk! – Though it is a strange thing to get used to, I know that anytime I'm out and about, I don't have to make meaningless small talk with strangers. So for those times when you're riding in a taxi and wish the driver would shut up and let you zone out, Korea is bliss. They don't understand you and you don't understand them. This is kind of a double-edged sword though as there are many times you wish to the Heavens that you could get your message across or understand what is being said to you, but you oddly get used to the fact that you're a mime walking through a crowd.

I'm freaking awesome, I can read Korean – But I have no idea what any of it means. It's like a Shakespeare class I took in college. I could read the entire five acts of A Mid Summer Night's Dream, but until I got to class and the teacher explained the whole thing, I had no idea what that rascal Puck was on about.

You're Above the Law – Now, I'm sure this theory has its limits, but as far as I can tell, foreigners can more or less get away with a lot of crap as long as they're not a danger to anybody around them. It seems that more often than not, the language barrier is often too much of a hassle to overcome. I've been to several parties where the police have been called and the cops had no idea what to do or say. I'm sure we didn't win any friends with the neighbors, but the police more-or-less urged us to be quiet and left us alone for no other reason than they couldn't tell us to shut up and go home.

I should clarify that I go out of my way to never purposefully offend my hosts in this country, but it is comforting to know that if I ever do cross an unintentional line, my best defense is 'gee, I just didn't understand'.
I should clarify, that I go out of my way to never purposefully offend my hosts in this country, but it is comforting to know that if I ever do cross an unintentional line, my best defense is 'gee, I just didn't understand'.

I don't mean to make light of this, but it reminds me of the end of the movie Kingpin where Bill Murray's character (Ernie McCracken) wins the bowling championship and a million dollars. . . "Finally Big Ern is above the law! I can buy my way out of anything!" Yep, being a foreigner in Korea is a lot like being Big Ern. You know you're making an ass of yourself most of the time, but you are who you are, and you just hope you don't get "Munson'ed" too much like this guy. . .




Comment on "Vail travel: being a wayguk (foreigner) is way fun" using the form below