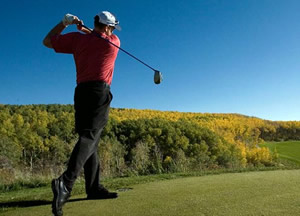 The Sonnenalp Golf Club's 9th annual Scratch Match Tournament is a summer-long match-play tournament for not-so-hacking hackers.
Courtesy of the Club at Cordillera
www.cordillera-vail.com
Blog Tools
Comments
PermaLink
Increasingly popular Vail Valley Scratch Match Tournament right around the corner at Sonnenalp
By Reid Griebling
May 4, 2009 — Snow showers are visible at the highest peaks as I write, but here on the valley floors spring has sprung. And down-valley golf courses such as Eagle Ranch and Cotton Ranch have seen golfers for the past few weeks.

Eagle-Vail Golf Course has its usual 10 holes open, and the Vail Golf Club opened its driving range this past week. And as snow riders store all things winter, Sonnenalp Golf Club's annual Vail Valley Scratch Match Tournament is just around the corner.

The 9th Annual Scratch Match is a summer-long, match-play tournament for not-so-hacking hackers that's open to anyone in Eagle, Summit, Lake, Routt and Pitkin counties with a USGA handicap index of 12.0 or lower.

The idea is to congregate the Western Slope's best players to compete in a 64-person match-play tournament with the winners moving on and the losers ... well, you know.

Held at one of the Vail Valley's finest courses, Sonnenalp Golf Club, the $90 entry fee gets golfers a qualifying round, first-round play and any subsequent rounds that may follow.

The 2008 Vail Valley Scratch Match saw its first ever full field event with a total of 67 participants.

"The goal for 2009 and the long-term future is to never have under 64 players again," according to George Hart, assistant golf professional and tournament director for the VVSMT.

Past champions include Jaime Olson, Todd Novak, Mitch Perry and reigning Colorado Golf Association Senior Match Play Champion Ken Sady.

Slowly becoming a must-play tournament for the low handicappers in the valley, this year's event looks to be on its way to breaking entry and payout records.

Qualifying dates are Saturday, May 16, and Wednesday, May 20. Both days tee times will begin at 11:30 a.m.

For more information or to sign up, contact the Sonnenalp Golf Club at (970) 477-5372. See you on the lynx (Vail humor).





Comment on "Increasingly popular Vail Valley Scratch Match Tournament right around the corner at Sonnenalp" using the form below