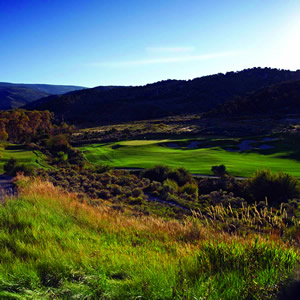 Eagle Ranch in Eagle has been in full swing for a few weeks now, providing some of the best golf deals in the Vail Valley.
Courtesy of
www.eagleranchgolf.com
Blog Tools
Comments
PermaLink
Record turnout for first Men's League event at Eagle Ranch Golf Club
By Reid Griebling
May 19, 2009 — Near record temperatures will welcome this Memorial Day week as river flows are peaking and yes, people are still skiing. Way to go Williams Family (see The O. Report A-Basin blog).

I for one am happy that summer seems to finally be upon us. And with that, golf in the Vail Valley is in full swing.

Vail Golf Club has 10 holes open, while Eagle-Vail Golf Course looks to open all 18 holes by Friday, May 22.

League golf has begun at many courses, including Eagle Ranch, which saw a record 71 competitors play in the first Men's League event. Eagle Ranch Men's League plays every Wednesday from noon to 3 p.m., excluding the Fourth of July holiday.

Ladies League is every Thursday at Eagle Ranch, and ladies wanting to play 18 holes tee off from 8:30 a.m. until 9 a.m. The nine-hole league plays from 4:30 p.m. until 5 p.m. every Thursday.

Finally, Eagle Ranch Golf Club is hosting a Friday Afternoon Club beginning in June, with drink specials along with discounted lessons for those in need.

"It's going to be the hizzie," according to head professional Pascal Begin, who is excited to for F.A.C. -- not only for the drink specials, but also to give a bit of golf knowledge at a lower price.

"Come visit the bar with the best view of the Gore Range," said Director of Golf Jeff Boyer, poking a little fun at counterpart Alice Plain in Vail.

The Eagle Ranch F.A.C. is open to anyone, regardless of golf ability, age, or height.

For more information on any of the activities happening at Eagle Ranch Golf Club, visit www.eagleranchgolf.com or call (970) 328-2882.

Happy Memorial Day Weekend! See you on the lynx.


Comment on "Record turnout for first Men's League event at Eagle Ranch Golf Club" using the form below