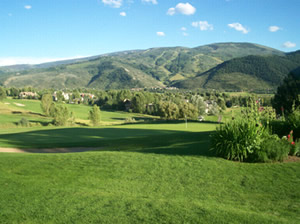 Head to the Sonnenalp Golf Club Friday for a Vail Valley demo day open to the public.
Courtesy of
sonnenalpgolfclub.com
Blog Tools
Comments
PermaLink
Try it before you buy it: Sonnenalp Golf Club demo day set for Friday
By Reid Griebling
June 23, 2009 — Summer has finally arrived after a wet and cold spring, and golf courses around the Vail Valley are green and lush.

Summer golf season is pushing full steam ahead and nothing gets golfers excited like a golf club demo day. Well, golfers, you're in luck.

Sonnenalp Golf Club will be holding its annual demo days on Friday, June 26. From 11 a.m. to 3 p.m., the driving range will have reps from companies like Callaway, Titleist, and Taylor Made with huge golf bags and every kind of club on the market.

A great way for golfers to try out golf clubs before purchasing, this event is open to the public.

For those of you who are content with the equipment you already have, Sonnenalp also has trained staff on hand who can fix broken clubs that you just can't part with.

For more information, contact Sonnenalp Golf Club at (970) 477-5372 or visit www.sonnenalpgolfclub.com.

See you on the lynx.

Comment on "Try it before you buy it: Sonnenalp Golf Club demo day set for Friday" using the form below